SmartPak offers advice and solutions to help your horse battle winter hoof woes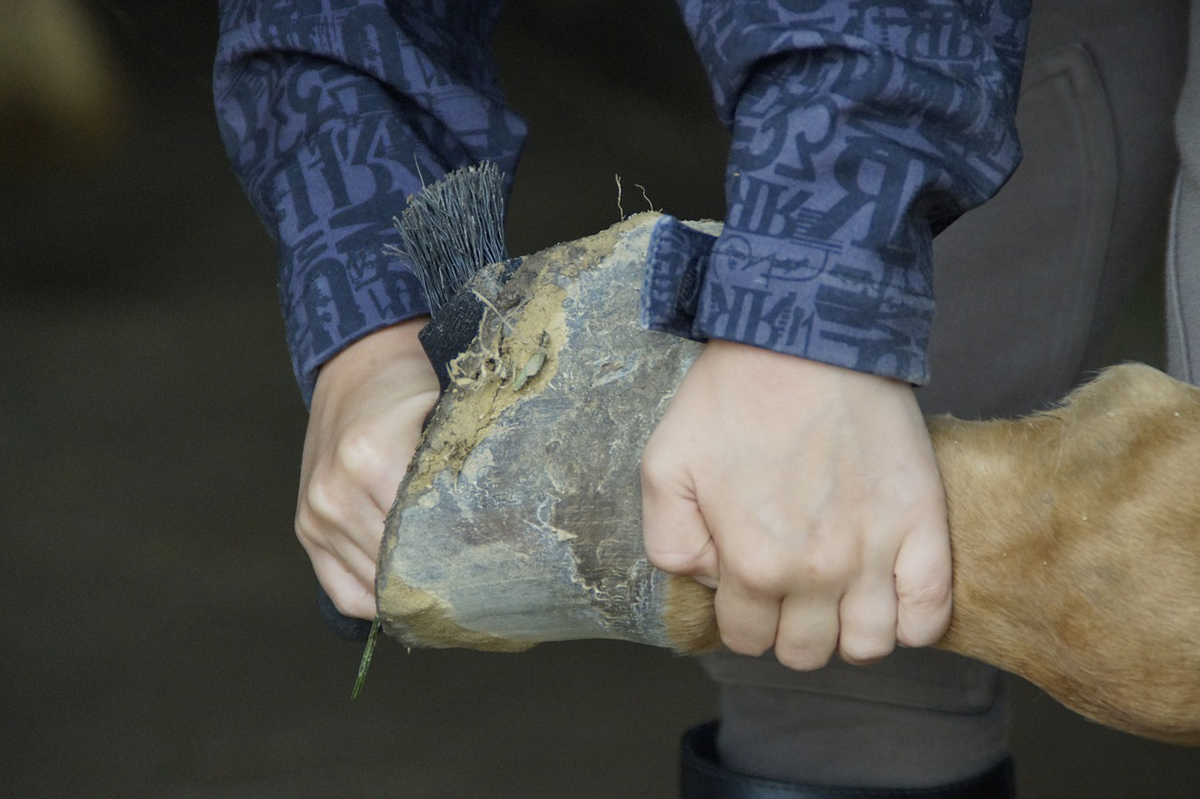 PLYMOUTH, MA – February 7, 2017 – As the saying goes, "no hoof, no horse." Hooves are to horses as foundations are to houses – they're the base everything else is built on. And just like your house's foundation, your horse's hooves need to be strong, solid, and reliable. Unfortunately, winter weather can pose challenges for managing hoof health for both horse owners and farriers. Aside from trying to manage what we can of the environment, it is important to understand the factors that can impact hoof health, and develop a comprehensive plan to help manage your horse's individual needs this season.
Winter weather is a variable in hoof care that can't be controlled. Across the country, weather conditions often bring a variety of precipitation, from rain in warmer areas to snow in colder climates. This excess moisture, along with the freezing and thawing cycle, can lead to hoof problems.
Dropping temperatures can also cause mud to freeze, leading to uneven and slippery footing. Horses who live in areas with snow also have to contend with "snowballing," which is when snow builds up in the hoof or horseshoe. Snowballing not only creates pressure points, but it also minimizes traction.
Another factor to consider is your horse's hoof growth rate. As winter approaches, hoof growth tends to slow down, which can magnify any hoof issues or weaknesses. "In anticipation of the slowed hoof growth that comes with winter, I recommend making sure your horse's diet is complete and balanced," said Danvers Child, CJF. "I also see excellent results when owners feed a hoof supplement that provides biotin and the other nutrients that support growth rate and quality of the hoof wall."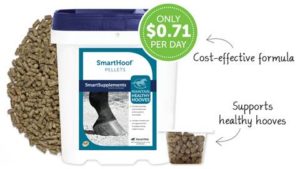 Providing a daily hoof supplement, such as SmartHoof ® Pellets, is an ideal way to ensure your horse's hooves have the right nutrients to stay strong and healthy year-round. This economical formula is now available for just $19.95 per month in SmartPaks. "Every horse deserves healthy feet and when it comes to hoof care, that can sometimes mean balancing your budget in the barn," said Sarah Mann, SmartPak's Vice President of Equine Health and Brand. "That's why we're so excited to be offering a new lower price on SmartHoof Pellets, effective January 1st, making it an even better value, and something that all horses can benefit from."

SmartHoof Pellets provide 25 milligrams of biotin plus key minerals and amino acids such as methionine, lysine, threonine, copper, zinc, gelatin, and other ingredients which are necessary for strong, resilient hooves. When ordered in the SmartPaks supplement feeding system, SmartHoof Pellets are Guaranteed to Work, meaning if you don't see results in two months, SmartPak will give you your money back! Not sure what to look for with just two months of hoof growth? Call SmartPak's Supplement Experts or check out this blog: A Year in The Life of a Hoof.

Along with providing your horse with the right nutrition, it's important to work with your hoof care professional to develop a plan for winter weather. He or she knows your horse's hooves best, and will be able to provide the best advice on how you can give your individual horse protection and traction during winter weather.

To learn more about what you can to do to help protect your horse's hooves this winter, or to get your horse started on SmartHoof Pellets, visit www.SmartPak.com or call 1-800-461-8898 and speak to a Supplement Expert.

About SmartPak

From the feed room to the tack room, SmartPak offers innovative solutions to help riders take great care of their horses. SmartPak was founded in 1999 with the introduction of the patented SmartPak supplement feeding system. The revolutionary, daily dose SmartPaks are custom-made for your horse, individually labeled and sealed for freshness. With the success of this simple and convenient feeding system, SmartPak has continued to expand its offering of quality products, including its own line of more than 55 supplement formulas called SmartSupplements, and a wide variety of tack, equipment, and supplies. The company has grown rapidly each year and is now the largest retailer of equestrian products in the United States. SmartPak's success has been powered by a passion for delivering an unbeatable customer experience, and the company has been recognized with a Bizrate Circle of Excellence award five years in a row, as well as receiving an "Elite" rating from STELLAService. A nine-time Inc. 500/5000 honoree, SmartPak is the only equine company ever named to the Inc. 500 list.

<!-comments-button-->