The pandemic has been weighing heavy on our equestrian community. Knowing that this article won't go to print for three weeks has left me with the writer's block of my life. The impact on our communities, our economy, and our daily life has been significant. I hope that by the time you read this we'll be through the worst of the impact.
Some of us are new homeschool teachers. Some are working in a modified capacity. Some of us are essential service providers and are taking on extra risk of exposure. We are wearing more hats than our usual cowboy hats and riding helmets. In rural areas, many of us have horrible internet service that makes working from home brutal. All of us are worried for the health and financial stability of our families, friends and communities. Stress abounds.
In my wavering effort to focus on the positives, I thought it would be a good exercise to share some of the reasons I'm grateful for my rural lifestyle during this quarantine.
Horses
Under normal circumstances I have a lot of help and not a lot of time to do those things that are purely for enjoyment. It has affected my riding time over the last few years. There have been windows of time that have allowed me to ride with the sun on my face. There are few comparable joys.
During the quarantine, I've been able to ride consistently enough to get back to some modified training on a couple of my horses, and that feels good. Really good. Having acreage and a safe place to ride has been crucial to my mental health.
We have three foals coming soon, and I've had time to brush and spend time with all my horses more than I've been able to in a long time. If nothing else, if things really go south, I will be set for luxury transportation sales.
New Projects
A long season of low inventory in our real estate market had caused me to pump the brakes on my new barn, but I had already purchased most of the materials. Quarantined with me is my handy husband. We have been taking advantage of this time at home to finish as much of the barn as possible without having to hire help.
Fixing fence, general clean-up, and planning our raised garden beds has kept us busy. Surprisingly, we haven't killed each other and have found better ways to work together through tasks that require more than one person.
Farming
I love having the ability to grow and produce our own food. Early on, we added 24 baby chicks to our laying flock, and I can't wait for them to go into production. We also took the opportunity to get our garden starts going early and have a plan for the orchard and row crops we want to get in the ground as soon as we're able. I have always been more gifted at animal husbandry, but hopefully my black thumb will turn green under pressure.
Passing on Knowledge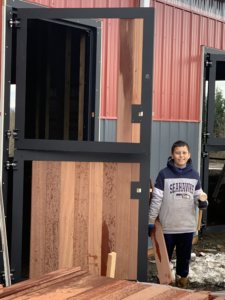 Our kids participate in a lot of chores, but with our normal busy life we don't always take the time to explain why we do the things we do. With less help than usual, it has been all-hands-on deck.
My 11-year-old son has been learning to drive the tractor by dragging the arena and he is helping with the remaining barn construction. Our two oldest kids have had more time to ride because I have had more time to facilitate it.
My dad always used to say that he would rather be stuck in any tough situation with me at his side than anyone. I feel the same way about my little family, and it feels good to be passing along skills that will serve them well later in life.
Self-Sustained
In early March, when we first started to voluntarily stay home, we had high winds and low temperatures. For the first time in our new home, we were without power for longer than a day in freezing temperatures. I spent a long night awake thinking of all the things we need electricity for on our farm.
We have solar panels, but not storage batteries. We have a generator, but it really isn't well suited to run our household. I am far from a paranoid personality, but my Alaskan upbringing wired me for preparedness, and I was mortified to realize how dependent on technology we had become. Since then I have worked to mitigate that reality.
I can't imagine having to shelter in place anywhere other than where we are now, and I imagine many of you feel the same way. Maybe one of the positive outcomes of this scary time is that many people will look to a more rural lifestyle, and we will see stronger communities for it.
Stay safe, stay healthy, wash your hands and ride your horse.
View the full May 2020 edition here
Allison Trimble has a Bachelor of Science in Animal Science from Cal Poly, SLO. After her graduation in 1999, Allison started Coastal Equine and has been training and competing in cowhorse, reining and cutting events. She has had marked success in the show pen boasting many titles and championships.
Willfully Guided is an educational program based on Allison's training process. For more information visit: www.willfullyguided.com
Allison is also a Realtor specializing in horse properties, hobby and commercial farms, and family housing. She combines her experience in the horse industry with her lifelong involvement in real estate to help clients find their perfect property. Learn more at www.coastalrealtywa.com