How to Begin Your Journey
by Michelle Binder-Zolezzi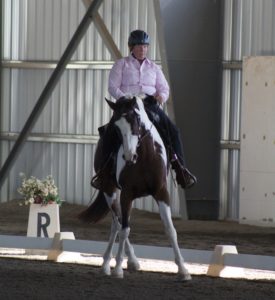 Every day I field calls from people wanting to know more about Western Dressage.  What is it?  How do I find out more about it?  Can anyone do it?  Is it hard?  Who teaches western dressage?  Are there shows?  Perhaps you're curious and have checked out websites, taken advantage of the free basic memberships, read the rules, reviewed the tests, read the articles, participated in the forum discussions, found groups on Facebook, visited YouTube and chatted with your friends about it.  Now, how can you develop western dressage?  The following are some ideas for beginning a new journey in this sport.
Find a clinician to come to your area.  The demand for trainers and clinicians is building and existing professionals are anxious to hang out their shingles and label themselves "Western Dressage Specialists."  Unfortunately, not all are qualified to teach this new discipline so be certain to ask about professional credentials and western and dressage experience.  As an instructor, I got started by contacting the organizations to find out what criteria was in place before being confident I could hang out my  western dressage lessons/training sign.  I already had professional videos and written material available so I was able to send in the materials they asked for and then waited for what seemed like weeks to get a "yes" response to my inquiry.  Seek out a qualified western or cowboy dressage professional to learn more about it.
See about getting western classes offered as part of a local schooling show class list.  Schooling shows are valuable places to gain insight and practice and to develop your western dressage horse.  When you ride a test you get a score and comments from the judge on each individual line item, so you will know where you excel and where you need improvement.  You should make certain that the judge of the show has some dressage credentials from the USDF or the USEF. 
Approach local clubs and organizations about sponsoring events or adding WD to year-end awards lists.  Here in Washington the Washington State Horsemen, our state-wide horse show organization, added WD as a discipline with year-end awards. Then our local zone added WD too. Schedule a demo for a local event with a qualified professional.  A few of our riders were invited to do a western dressage demonstration at the local dressage show. There was definitely a feeling of being out of place among my dressage friends because we were wearing western show clothes!  I felt like I could sing the song from Sesame Street: "One of these things is not like the others, one of these things just doesn't belong…"  I don't think any of them knew I actually have a great big silver western equitation champion belt buckle and Justin Ropers, let alone the Stetson that matches my husbands.  The wonderful thing about it was being accepted in a different way after the demonstration by people we did not know.  Of course we were a curiosity at first.  One woman commented within earshot, "Are those our cowboys?"   Afterward, many people came up to us and expressed how happy and excited they were to see what was happening in western dressage and the greatest compliments were about how beautiful the horses looked.  At a traditional dressage show!  People attending the demos gave plenty of positive feedback.  One woman even said, "I have been waiting for this for years."  Now, our local USDF group membership organization (GMO) offers western dressage classes at their shows.
It is easy to get western dressage started in your area just by contacting your local USDF GMO or local barns that sponsor dressage schooling shows and asking if they will add the classes to the show bill or class list.  Simply download the tests from a western dressage website.  With an arena set up and the judge in place it is really quite simple.  At our first shows we began by adding a WD "Test of Choice" class where the exhibitors specify the level and test they want to ride.  This adds only one class to the show, but allows all the tests to be ridden at the rider's discretion.  As attendance grows, we will split the TOC class into the various levels.
I am excited for the day when dressage riders and western dressage riders feel comfortable riding and showing in the same venue—it is all just riding after all!  If you would like to get WD started in your area, contact the Washington State Horsemen co-chair of dressage in charge of western dressage via email at michelle@relationalridingacademy.com.
Published November 2013 Issue
Michelle Binder is the founder of Relational Riding Academy, a program that utilizes dressage as fundamental training for all horses performing in all disciplines. A rider for 40 years, Michelle first competed English and Western rail horses in Washington, then Thoroughbred Hunters in Kentucky. In 1987 she began pursuing Combined Training though USCTA Novice and Training levels. She settled into dressage in the Pacific Northwest in 1995. Over the years Michelle trained extensively with Sue Sherry of Michigan. She has participated in clinics and instructors workshops with many well known instructors, including Sally Swift, Mary Wanless, Gerhard Politz, Jeff Cook, Dr. Rudolph Vlatten and, most recently, Claus Bergener, Grand Prix Judge for the GNEF.
In addition to being an ARIA certified instructor since 1989, Michelle has been a professional trainer since 1994. In the 1997 show season, Michelle finished "V.P. Medly" 5th in the nation in USDF All Breed Awards for Arabian Sport Horses and 26th in the nation for all breeds. In 2006, "A Perfect Mr. Re" finished 8th in the nation in the AACAP Awards for Appaloosas in dressage. In 2007, King of Broken Hearts, a four year old Appaloosa stallion qualified for the ApHC World Show, trained and ridden almost exclusively by Michelle for Vision Quest Ranch.
relationalridingacademy.com