Strategies for Barn, Farm, and Arena
Every winter I create a to-do list of improvements for my farm that will make surviving the season with horses more bearable. I want to ride and train all winter comfortably, keep my horses fit, and spend less time miserably cold and performing drudgery like breaking ice in water troughs or trudging through mud. Over the years I've made some progress around my farm, and I've learned some strategies to help keep the horses working and healthy too.
Around the Farm and Barn
Hay and water: The most important necessities are hay and water. Make sure you have at least two weeks of hay/feed stored to get you through any stretches of inclement weather where you might not be able to haul hay. If you have the storage space and can afford to buy a year's worth of hay, that's ideal; the same goes for bedding.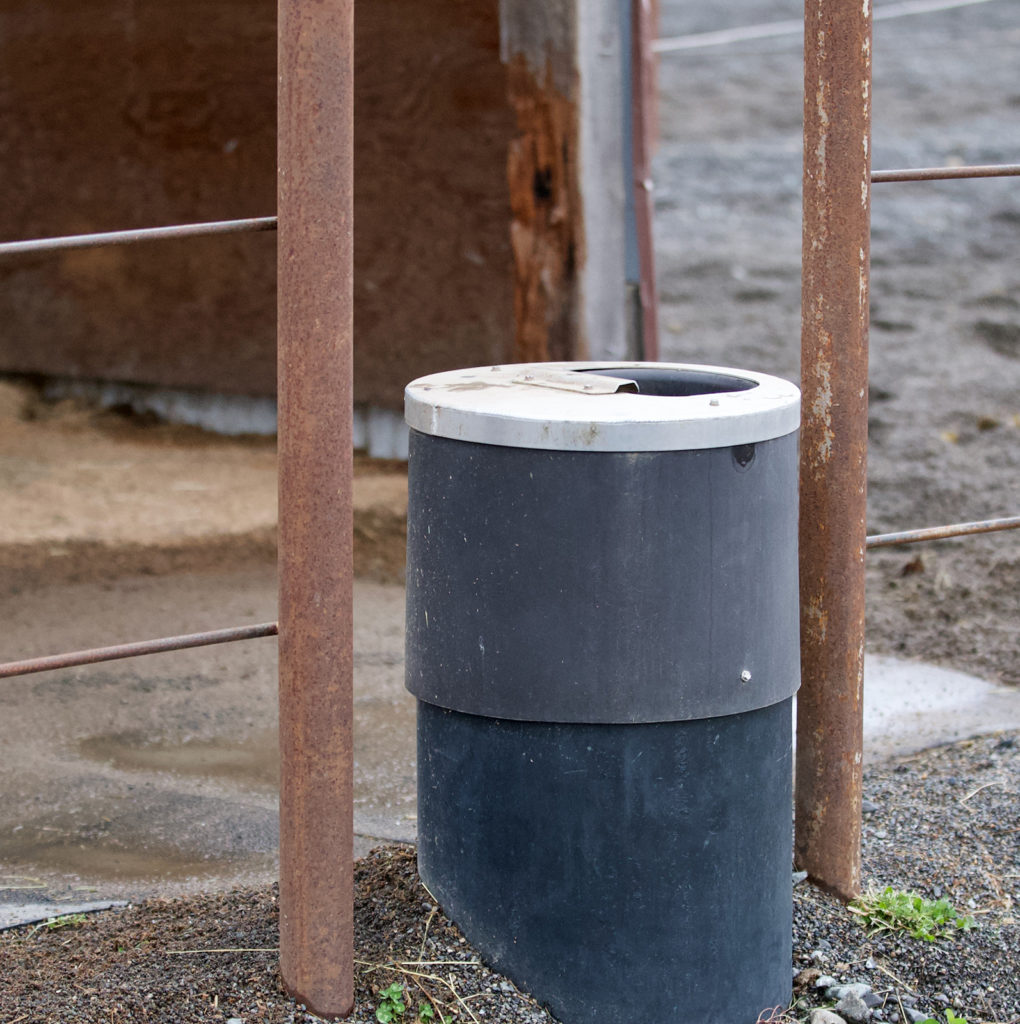 In wintertime I like to keep hay in front of my horses with slow feeders. A consistent supply of hay keeps horses warm, is good for their digestive tracts, and helps relieve boredom from confinement. I load up several slow-feed hay nets when I have the time and energy. Then, when it's freezing and dark outside it only takes a few minutes to hang a pre-stuffed hay net in the stall.
A frozen water source is one of our most pressing and difficult issues in winter horse care. Investing in freeze-proof water spigots is a must. Always disconnect hoses from these in the cold weather or the spigot will freeze and maybe even be damaged. I use a ZeroG hose that I store in my heated tack room. It's lightweight and drains easily, so carrying it around the farm to hookup to water hydrants and fill troughs is easier than trying to keep multiple hoses drained and thawed.
Water trough heaters and heated buckets are great if you have easy access to correctly installed electrical outlets. Use the kind of tank heaters that are installed at the bottom of the trough for safety's sake.
One option is to install freeze-proof waterers throughout the property that don't require electricity. Livestock learn to push a lever on the waterer to get a drink and then the water drains out of the bowls in the same way the freeze-proof spigots work. With these, you won't need to plug anything into an electrical outlet and your horses have clean, fresh water year round; the downside is they are expensive and need to be correctly installed.
One final tip in the water department is keeping extra buckets of water in a heated area during freezing weather. You can quickly change out frozen buckets for warm ones and allow the frozen buckets time to thaw. This saves on ice "chipping" time, and you can always use extra buckets on a farm.
Adding a generator capable of running your well pump is a great investment. These are expensive and need to be installed by a qualified electrician, but a generator can save you when the power is out in remote areas for extended amounts of time. In a pinch, fill spare troughs to dip out of when big wind events are forecast.
Trees: An improvement that has taken several years to develop on our farm, but has made a huge difference, is planting trees. Relatively inexpensive, many of the trees we planted started as tiny saplings of no more than an inch across and are now towering specimens. We have a beautiful tree stand/forest that blocks severe wind almost completely and provides shade in the summers. We also have the delight of giving home to many birds and helping the earth too.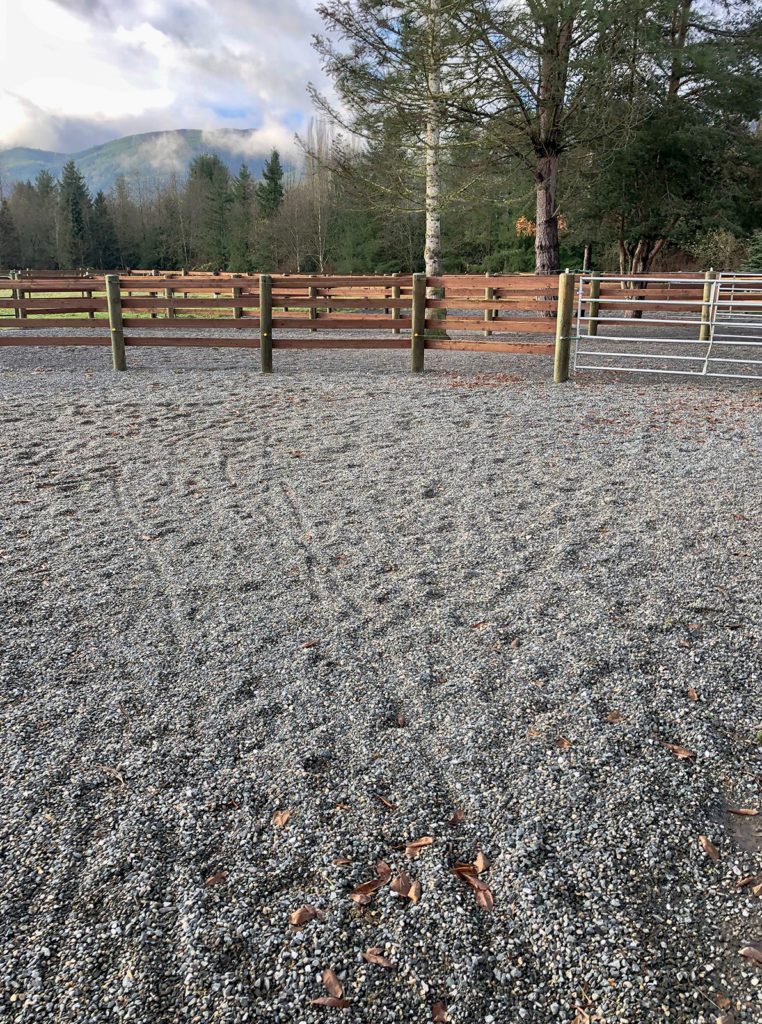 Lighting and footing: Investing in gravel in your gateways, paths (such as to the manure pile) and paddocks is one of the nicest things you can do for yourself and your horses. Mud is bad—frozen mud is even worse. It's a gift to yourself that keeps on giving every winter.
Adding good exterior lights allows you the freedom to feed and clean in the dark. Let's face it, the dark nights last a long time in the Northwest. Extending your day with good quality lights in and around the barn are well-worth the investment.
Tactics for Keeping Your Horse Healthy and Thriving in Winter
Motivating yourself to ride when it's dark and cold out can sometimes feel overwhelming, but it always feels good once you've spent some time with your horse. Here are a few strategies to help you get out the door and give yourself and your horse some exercise and training time.
Remove shoes or apply snowball pads. If you live in an area that gets much snow, you need a tactic for dealing with icy snowballs that accumulate in a horse's feet. This problem is much worse when the horse is shod and can easily cause injury to the horse. I usually remove shoes in late fall because I mostly work in an arena during the snowy months. It can also be beneficial for the horse's hooves to have this break from shoes anyway. If you plan on doing road or trail riding and need to keep your horse shod, consider adding anti-snowball pads under your horse's shoes.
Ride bareback. Does it just feel too cold? If your horse has the temperament for it, try a bareback ride. The horse's warmth will keep you warm, and the practice is great for improving your balance.
Consider a trace clip. If you ride after work in the evenings, you don't want a sweaty horse to deal with late in the evening. Clipping a small amount of hair off the neck and chest area will help your horse stay drier during workouts. This reduces cool-out times and keeps your horse from becoming chilled on cold winter evenings.
Use a quarter sheet. If you ride outside, or if it's very cold and your horse is clipped, add a quarter sheet over your horse's back and haunches. Quarter sheets come in wool, poly fleece, and waterproof varieties. Some even cover the rider's legs so you can both stay toasty. It goes without saying: train your horse to accept this before using.
Try alternative training. Too cold to ride? Try liberty work, in-hand work, or clicker training. Even a short walk outside will do you and your horse some good.
Invest in warm clothes. Warm clothing makes all the difference between enjoying winter and hating it. I have fleece breeches I've used for years, and they're cozy, warm, and they wick moisture—I've been known to wear them hiking too. Heated jackets and vests are available these days. I have warm winter gloves that I save just for riding. Check out other sports' clothing. Skiers, especially, have great socks, pants, underlayers, and thermal shirts.
Winter doesn't have to stop you from enjoying your rural lifestyle or your training. With a few strategies, it can be a wonderful time to make meaningful progress in your training and to enjoy the gifts of beauty nature provides during the season.
See this article in the January/February 2023 online edition:
January/February 2023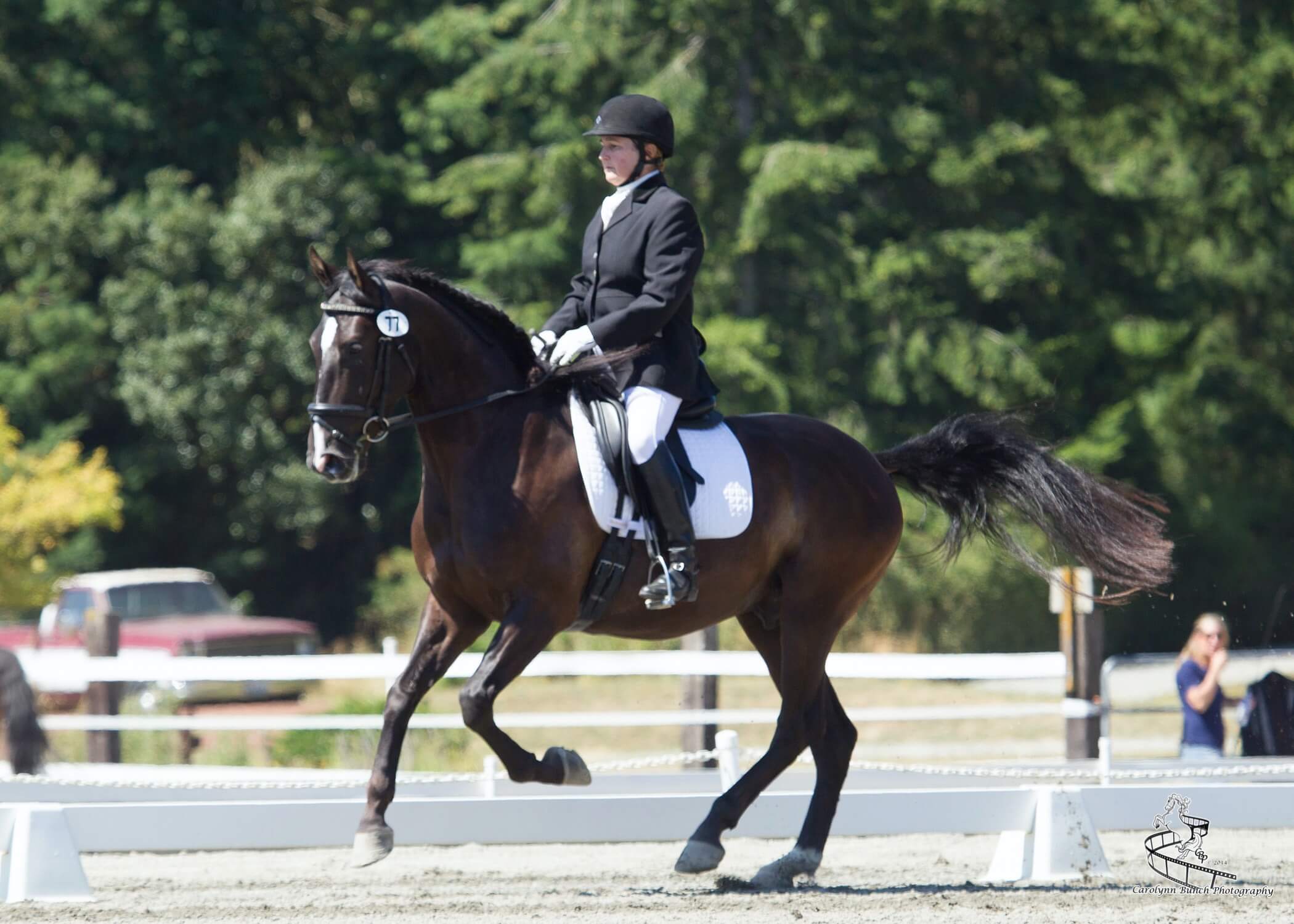 Kim Roe grew up riding on the family ranch and competed in Western rail classes, trail horse, reining, working cow, and hunter/jumper. She trained her first horse for money at 12 years old, starting a pony for a neighbor.
Kim has been a professional dressage instructor in Washington state for over 30 years, training hundreds of horses and students through the levels. In recent years Kim has become involved in Working Equitation and is a small 'r' Working Equitation judge with WE United.
Kim is the editor of the Northwest Horse Source Magazine, and also a writer, photographer, and poet. She owns and manages Blue Gate Farm in Deming, Washington where she continues to be passionate about helping horses and riders in many disciplines.