How to Buy Art for the Horse Lover
By Kim McElroy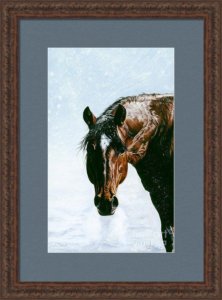 When the holidays come around, we can feel challenged to come up with gifts for the horse lovers on our list. Sure, there are a plethora of choices out there, but what would make their hearts sing?
Art is often personal by nature, so a gift certificate is always a great place to start. However, we usually enjoy the idea of giving something tangible and meaningful.
If you're thinking of a lifetime gift, you might want to find an artist to create a portrait of a special horse. But portraits take time to create, and besides, as an equine artist I find that the portrait process is very personal and the horse's owner usually wants to be involved in the decision making.
If you want a portrait to be a gift under the tree, I suggest making arrangements with the artist to commission the portrait, and then frame a photo of the horse in question with the note "I've commissioned a custom art portrait of [horse's name] by [artist's name]." You can imagine the look on their faces when they open that! Then they will have the joy and anticipation of working with the artist to create their dream.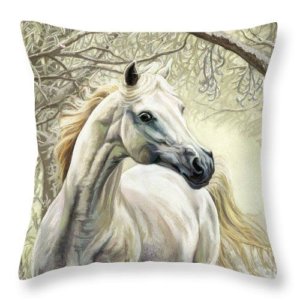 There are many other creative ideas for artistic giving. The wonderful thing is, horse lovers love horses! So, you pretty much know that any art or home décor that features a horse will make them happy. Especially if you narrow down the choices to what breed and color of horse they like, or if you find a work of art you think resembles their horse. Or you can choose horse art that is more generic: a print featuring a horse in a beautiful nature scene, or a work of art that showcases a dynamic horse in motion, rather than a static traditional pose.
In addition to prints, the technology of print-on-demand websites such as fineartamerica.com makes art available on merchandise such as coffee mugs, phone cases, yoga mats, tote bags, pillows, and other custom-made products. Some websites, such as zazzle.com also offer a personalizing tool on some merchandise if you want to add in your recipient's name.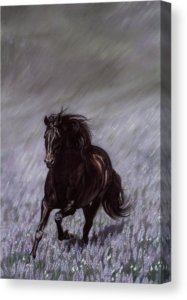 If you are going to give the gift of a print, you might want to order it early enough to frame it. Otherwise, your recipient ends up paying the cost. Or, Fine Art America offers selections of equine art printed on metal, canvas, acrylic, or wood. These styles usually come complete with hangers and don't require glass or a frame. Hint: when ordering a print on canvas – look for a Museum Mount, which is where the canvas is wrapped around the image to give an attractive finished and three-dimensional look.
If you still like the look of a framed paper print, Fine Art America also offers fun virtual framing choices while placing your order, which allows the one-stop-shopping convenience of frame selection at competitive prices. The website even shows you a to-scale photo showing how the size of the art you select would look in a room above a couch!
Whatever you choose, if you give the gift of art, your recipient will know you put a lot of thought into choosing their gift for them. While you're at it, why not give yourself a gift of art as well!
For over three decades, Kim McElroy has been renowned for her visionary equine art. Her creations portray the power and beauty of the horse's form and reveal a timeless glimpse of their soul. The horse is her muse, ever inspiring her to find new ways to awaken humanity to their healing gifts. Kim lives at SkyeLandeSea farm in Kingston, Washington with her husband Rod, horses both big and miniature, and a menagerie of tame and wild creatures. Studio tours are available by appointment.
SpiritOfHorse.com
FineArtAmerica.com/profiles/spiritofhorsegallery/shop