New Paddocks Make Life Better for Horses, People, and the Earth
By Katie Pencke, Whatcom Conservation District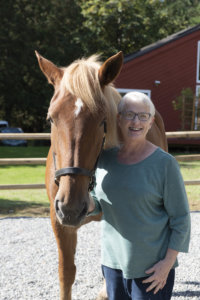 Are you a Sound Horsekeeper? Robin Probst is on her way…and her land and animals are thankful for it! As the winner of the 2018 spring Sound Horsekeeping Design Competition, Robin received a $3,000 grant toward on-farm stewardship projects. The design competition and grant are provided in collaboration between the Northwest Horse Source and the Whatcom Conservation District.
Robin's motivation for entering the contest was clear. Her goal was to reduce mud and soil loss from her site. To do this she worked with the Whatcom Conservation District to design four heavy-use area turn out paddocks with improved footing for the four horses she keeps on her five-acre site in the winter. After extensive research Robin decided on a protective footing of six inches of excavation, geotextile underlayment, six inches of 5/8" minus crushed rock, with a washed pea gravel top dressing.
She researched and hired a contractor to do the installation and scheduled it for the dry season. In August, when the contractor was on site to excavate and begin the installation of the footing, the Whatcom Conservation District was there with Robin to witness the transformation. Once the new footing was installed, the contractor began on the fencing.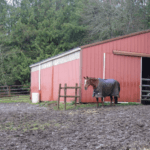 Now that Robin knew the new paddocks would be ready for winter, she was ready to continue investing in the recovery of her soil and the forage plants growing on the rest of the site. She borrowed the manure spreader the Whatcom Conservation District offers for loan to add nutrients to her land, then over-seeded with a pasture mix.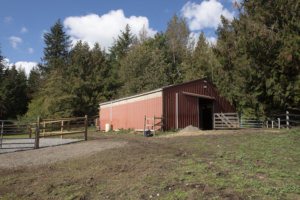 Following the completion of the project, Robin is full of gratitude and has already noticed several improvements on her property. When asked how this project would benefit her most she joked, "I look forward to not losing my boots in the mud this winter." Robin continued by pointing out the other more obvious benefits, such as the convenience and safety for feeding and watering her animals.
Providing winter shelter and riding opportunities for her friends keeps Robin going, so one of her biggest motivators was to extend the time she will be able to care for horses safely and responsibly. "To maintain my horses in a convenient manner, without the threat of slipping or falling, will allow me to care for these animals longer in my life. I am very thankful for that," says Robin.
Interested in finding out how the Whatcom Conservation District might be able to help you with your farm dreams? The Whatcom CD has various free services and financial resources available to assist the equine community in Whatcom County. Take advantage of complimentary soil testing, a $200 rebate for barn gutters or heavy-use area footing, the free manure spreader loan program, or the $3,000 rebate program for farm improvements that protect water quality. Visit www.whatcomcd.org in Whatcom County, WA or find the Conservation District closest to you at www.nacdnet.org.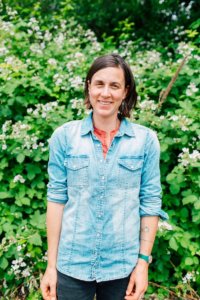 Katie Pencke joined the Whatcom Conservation District in May of 2016 as a Livestock Planning Technician. She assists landowners by providing technical assistance, developing farm plans, and answers other resource management questions.
A native of Seattle, Pencke earned a degree in ecology from the University of Arizona in Tucson in 2002. She managed learning gardens and farms in the King County area for eight years, and then worked for the King Conservation District helping farmers and rural landowners maintain farm drainage. She moved to Everson with her family in early 2016 to start Alluvial Farms, a pastured pork business.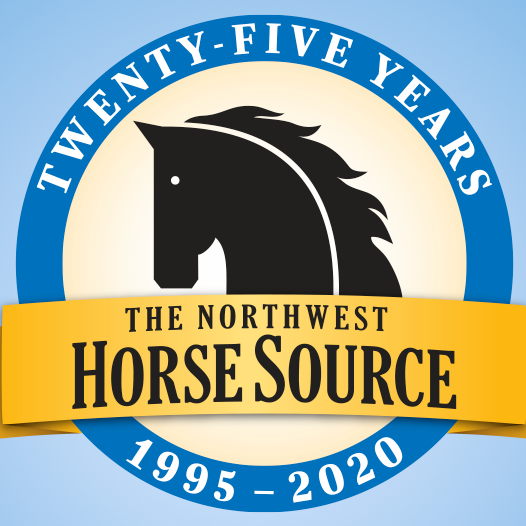 The Northwest Horse Source is an independently owned and operated print and online magazine for horse owners and enthusiasts of all breeds and disciplines in the Pacific Northwest. Our contemporary editorial columns are predominantly written by experts in the region, covering the care, training, keeping and enjoyment of horses, with an eye to the specific concerns in our region.