How to Plan Your Ride for High Scores
by Brent Rollins
In this article on cowboy racing I will offer tips for improving your performance as well as sharing some experiences from my first race. Remember, the most important thing is to have fun so try to stay calm. Competition comes second. I see a lot of first time racers getting all worked up. Don't do that to yourself, or your horse. I was shaking my first time, too, but I tried to stay cool so my horse could perform without anxiety.
The course consisted of jumps, poles, curtains, a teeter bridge, tarp, water crossing, a free ride and a crawl through. No one is too green for the cowboy race, but, that said, the most important piece of advice I can give you is to know your own limits and that of your horse.  A lot of mistakes I see now as a judge come when people try to ride too far out of their ability. This is where I made my first mistake in that initial race. The horse I was riding was a black Appendix Quarter Horse, and she was fast, too fast my free ride. I was way out of control! I asked her to go too fast for the size of the arena so we were unable to turn or slow down very well. I should have rated her down to a fast lope instead of a dead run. Remember the race motto Craig Cameron frequently repeats: "Speed with control."
Cross training is my next piece of advice, regardless if you're a trail rider, barrel racer, or a reiner. All of those styles and disciplines will apply to the race so experiencing each one, even just a little bit, will make your race better. Think of it this way: The trail rider has a wide knowledge of obstacles and problem solving, the barrel racer knows about white knuckle speed and slowing down just at the right time and the reiner knows about control, finesse and cow savvy.
The best and most dangerous racers do it all and learn from anyone and everyone. While I practiced tons of obstacles and lots of control, a training hole that showed up in my first race was that I'd never opened my horse up to higher speeds. I needed more practice going fast and slowing down, such as a sliding stop or at least a good hard stop when needed. Teach your horse to go fast, but in control. Work on this at home. Lope a lot to get your horse in shape; as with any athlete, practice makes perfect.
The next thing to consider is showing off. Yep, that's right—show off a little! I didn't show off in my first race because I didn't have anything I could do. Style and pizzazz will earn you extra points, just be careful what you do. If you want to show off do it on a small scale, don't take too much extra time. Your time does affect your score. Some examples of a good show off to earn points include side-passing a pole both ways when only one direction is required. Another would be pausing on the teeter bridge and rocking back and forth instead of crossing quickly. This takes a little extra time so decide if it is worth it to you. One situation that sticks in my mind is a young lady and her Halflinger. She laid the horse down to mount during a bareback portion of the course. She got high scores because her horse laid down immediately and it took no extra time. Showing off can also kill your score if you fail and points are removed, so be careful.
My last piece of advice is to make a game plan. Think ahead, know where you're going and what you're going to do. I had no plan whatsoever at my first race. I just did the course as it was laid out instead of planning my attack. Most races don't have the course for every rider to study, so when you're in your walk through take a pen and paper and draw it so you can look at it and devise a plan. Try to stick to the plan you make because having the confidence of knowing where you are going makes your horse more at ease. I hope this helps everyone feel more confident about the race, so good luck and happy racing.
Published in February 2015 Issue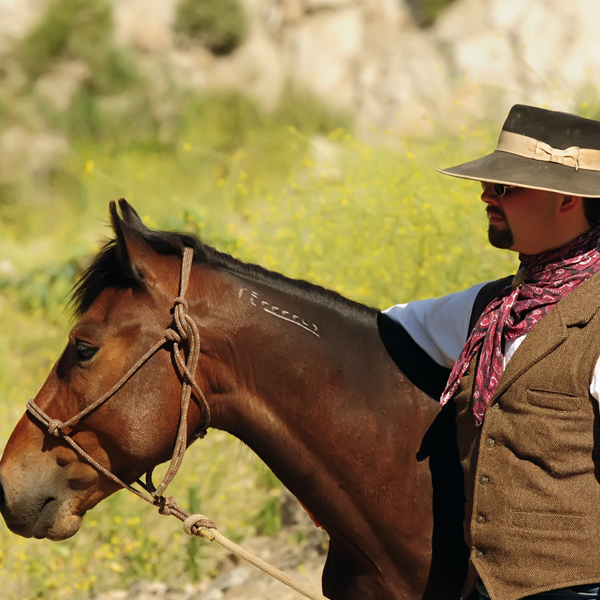 Brent Rollins is one of the industry's leading experts on mustangs. He has been called the "mustang whisperer" by Craig Cameron. Brent is an EXCA cowboy race judge, and Craig Cameron certified Trainer. Brent travels Oregon, Washington and California giving clinics and expos, promoting the mustang and their versatility. He educates adopters and potential adopters on what to expect with their new mustang and deals with misconceptions regarding mustangs and domestic horses. He also helps with problem horses. Brent believes that every horse deserves a chance to be great. For more information about Brent and his program visit www.brhorsemanship.com.