Weiser River Trail Wagon Train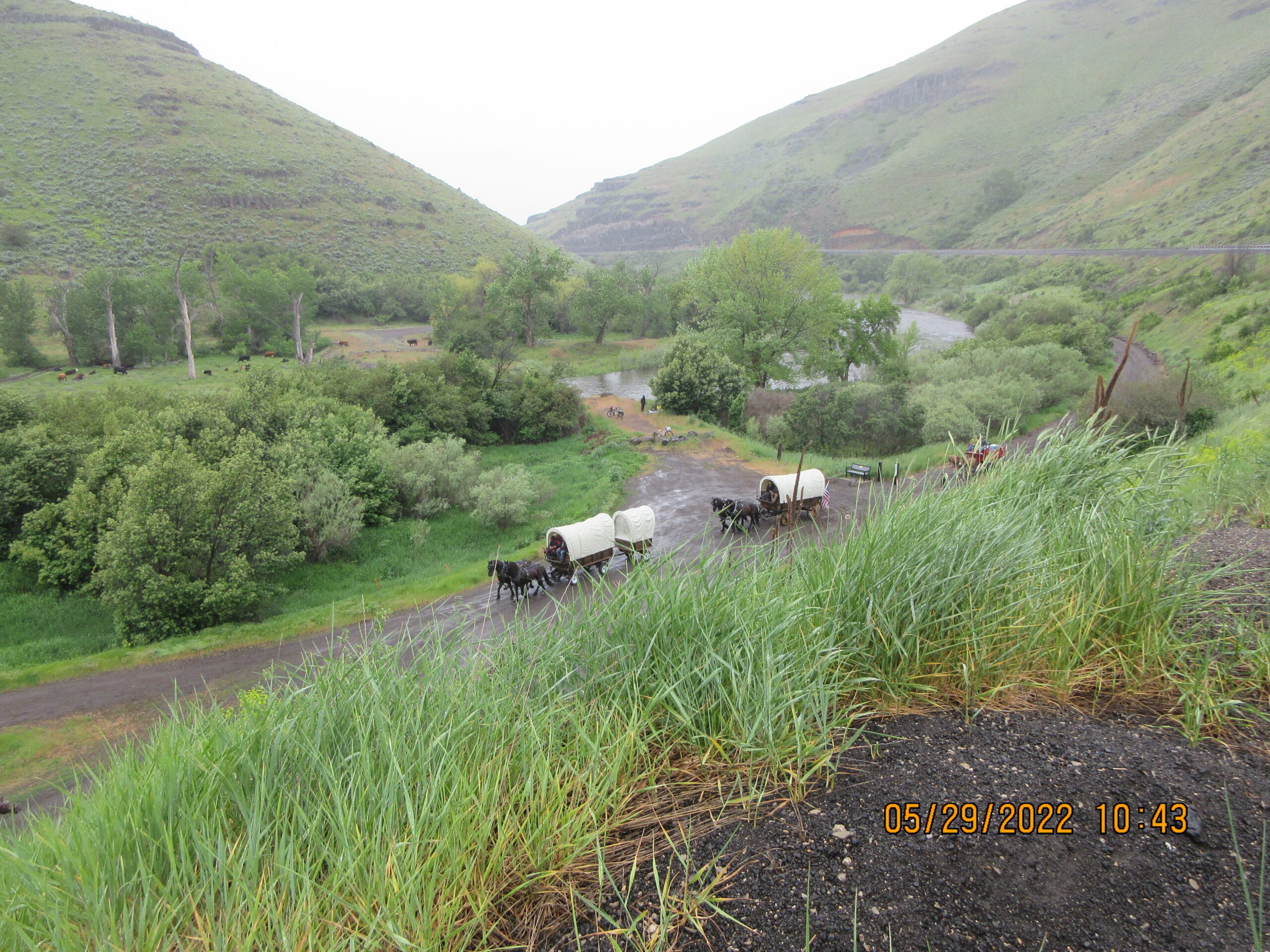 Twenty-one years and still going strong!  Join us for a leisurely four day journey on a true Idaho Gem, the Weiser River Trail.  Follow the Trail through two  counties, from Weiser to Council,  as the terrain  gently changes from  rolling  farm land surrounding  Weiser to majestic mountains in Council.   Enjoy   a splendid hot breakfast (7 a.m.) (coffee is on at  6  a.m.) and dinner (6  p.m.) each  day.  Camp far from the madding crowds, with  only the sounds of nature to lull you to sleep. Travel at your own  speed and enjoy as many  rest stops as you like each day.  Horseback riders  and walkers  welcome!!!  We  shuttle  your  gear  and  hay  from site to site.
For complete registration information, please E-mail weiserrivertrail@gmail.com or download the form from our web site at https://tinyurl.com/5n8vmjyy or visit our Facebook page at https://tinyurl.com/bdfyr4yx
The 21th annual wagon train on the Weiser River Trail is a fully supported event.  We start in Weiser, Idaho, on Friday, May 26, and end in Council, Idaho, on Monday, 29.  If you are unable to commit to four days and 60 miles, please contact us and we will do our best to work with you to hook up for one or two days.
Coggins and health certificate not required (BUT be sure and check the regulations if you are coming from out of state).  Weed free hay not required.  Note that ALL EQUINES MUST be at least 3 years of age and MUST have some type of hoof protection.  The trail is an old rail bed, it is rocky in places and our extraction resources are extremely limited due to the remote nature of the trail, should your mount become sick or lame.
Children are welcome, we do offer a discount for age 17 and under.  We also offer a military discount.  Our base price is $200, 17 and under $100, wagon drivers and veterans will also receive a small discount off the $200 base.  All entrants will receive a T-shirt.  Fee includes daily transport of gear and hay as well as shuttle to/from Council and six meals.
Related Events