SSMS Spring Fling Shootin' and Shoppin'
April 28, 2023

-

April 30, 2023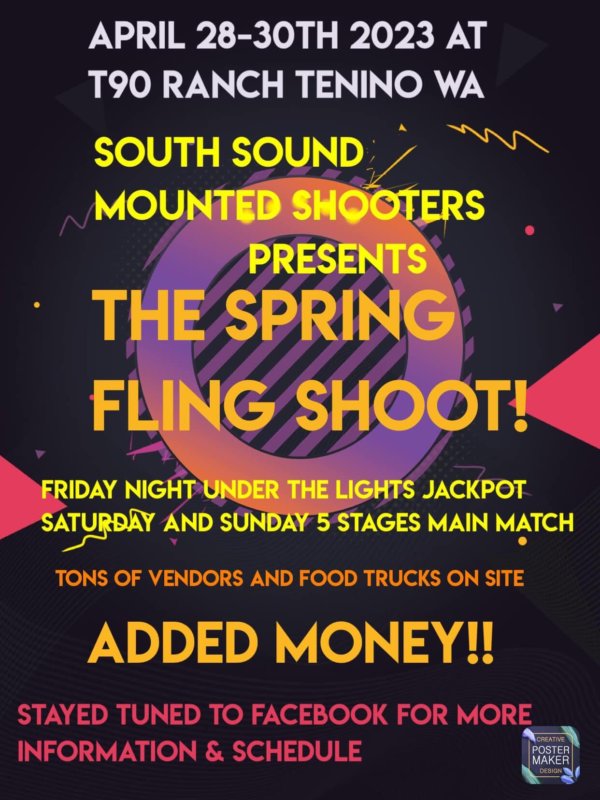 EXCITING EQUINE SPORT
The South Sound Mounted Shooters (SSMS) is a local charity based club in the South Sound of the Puget Sound area. As an affiliated club with the Cowboy Mounted Shooters Association (CMSA), all of the SSMS club events are sanctioned and governed by CMSA's rules and regulations. CMSA is a national organization dedicated to holding the finest, most exciting mounted shooting competitions in the USA and beyond.
For more information about CMSA go to www.cmsaevents.com.
SSMS holds practices throughout the year preparing for events. This is a family-oriented activity. There are various levels of competition from beginners, young riders, to seniors, and advanced professionals.
This exciting equine sport embodies the spirit of the old American West, where horse and rider – ride fast and accurate as they compete in a timed event. The rider takes aim at ten balloon targets using two .45 caliber old west revolvers with certified black powder blanks. No live ammunition is used or allowed on premises. This year there will also be vendors on site, for everyone to enjoy great shopping, and delicious food during the event. Spectators and shoppers are welcome.
Admission is FREE! SPRING FLING SHOOT OUT We are excited this is being held at the new T90 Ranch facility located at: 16641 Old Hwy 99 SE Tenino, WA 98599
SSMS 2023 goal is to have at least $7,000.00 of added money to draw more participants to this new first-class equine facility, which in turn will bring in more business to the local community.
Friday, April 28, 2023
Registration and Check In
Friday Night under the Lights
Jackpot
Saturday, April 29, 2023
Registration and Check In
Eliminator Main Match 1-3
Shotgun/Rifle Wrangler ground shooting Games
Sunday, April 30, 2023
Cowboy Church
Main Match 4-5
Shotgun/Rifle Final
Rookie Run Wrangler ground shooting
Contact Information:
Pres: Erica Larson 360-259-7156
VP: Brandy Christensen253-961-6923
Sec: Alex Kasuske360-790-6671
Treas: Kristine Thompson360-280-6153
Follow us on our Facebook page: South Sound Mounted Shooters
Related Events