Pierce County Horse Expo
March 18 @ 9:00 am

-

March 19 @ 5:00 pm

PDT

$35 – $60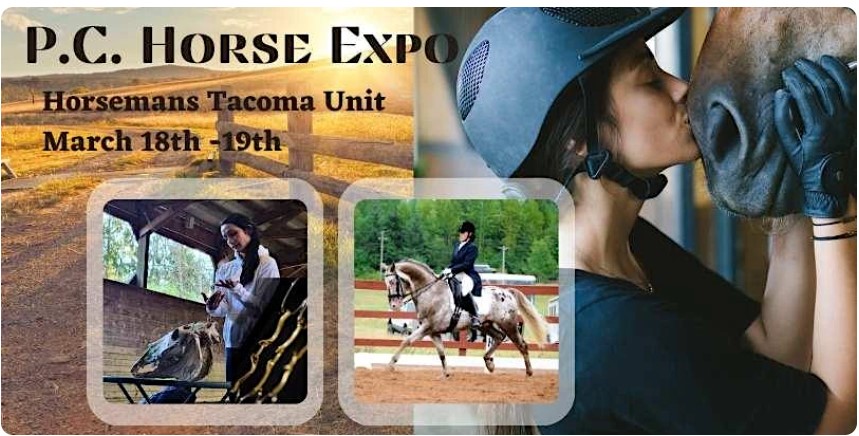 Educational Opportunities for Every Discipline!!!
20% Discount Code 20PCHorseExpo Enter at checkout to get discount on individual tickets till February 1st.
Located at the Tacoma Unit Horseman's Arena in Spanaway, WA
Come and enjoy this fun, entertaining and educational event for all disciplines! Featuring emphasis on natural horsemanship, preventing lameness and developing the sport horse! Dressage, jumping, western dressage, ground work and liberty tips. Professional bit fitting by "The Equine Bit Fitter" and pro saddle fit presentation by Anja Swenson. Soundness seminar and Equine Bodywork – Surprising Hind End Fixes by Vicki Dawley.
Pre-register till February 1st and get 20% off regular admission price with discount code 20PCHorseExpo ! Excellent educational opportunity for anyone that owns horses. Get your tickets now!
Highlights of this Expo:
Preventing lameness in the horseIdentifying soreness and nutritional deficiencies

Professional saddle fit demonstration

Bit fit and your horses mouth "The Equine Bit Fitter" https://equinebitfitter.com/

Surprising hind end bodywork issues that can cause major behavioral problems!

The art of lunging

Contact vs. connection

Archery on Horseback

Long-lining the green to Grand Prix horse

Clicker training benefits and when to use it

Liberty training that can improve your ride and relax your horse

Teaching the half-halt both horse and rider

Desensitizing the dressage horse

Driving Dressage demonstration

Dressage and the older horse

Western Dressage

Developing strength for cadence and engagement

Straightness equals balance

Freestyle Presentations

Dressage and the Barouche horse

The non-traditional dressage horse

Plus much more!!
Space available for participants. Please email to enquire about spots.
bmdressageunlimited@gmail.com
Auditor ticket:
1 day = $35
2 days = $60
Family of 4 tickets:
1 day = $120
2 days = $240
Related Events