Motorized vehicle public meeting June 10 – Alturas, CA
June 10, 2021 @ 4:00 pm

-

5:00 pm

PDT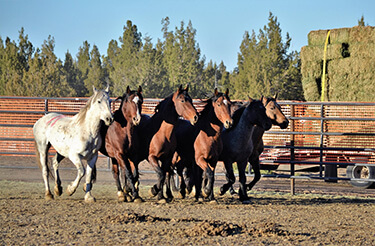 Alturas, Calif., June 8, 2021— The Modoc National Forest plans to gather wild horses from the Devil's Garden Plateau Wild Horse Territory again this fall to continue moving toward the appropriate management level of 206-402 adult horses. Cattoor Livestock Roundups Inc. will conduct this year's gather.
Reducing the population helps address impacts on aquatic resources, wildlife, grazing and other traditional cultural practices.
A virtual meeting is scheduled for June 10, 2021 at 4 p.m. to provide updates on planning for the gather this fall and accept public comments about the use of helicopters and other motorized vehicles during gather operations.
Join at https://usfs.zoomgov.com/j/1616340146?pwd=V1JBNzlPbENtdHBBYzhYRzlDY3VnQT09 with meeting ID: 161 634 0146 and passcode: DGWH#2021. To participate by phone, find your local number at https://usfs.zoomgov.com/u/acQ3JfTgLb.
For information about Devil's Garden Wild Hoses, their territory or how to provide homes for horses, please visit https://go.usa.gov/xQ3r3.
There are approximately 32 horses still in need of new homes of the 375 kept at the Double Devil Wild Horse Corrals from the 2020 gather. This success is the result of a coordinated effort by Modoc National Forest personnel, partners, volunteers and everyone who bought or adopted horses.
The BLM Litchfield Corrals also has Devil's Garden Horses available for adoption. For more information on how to adopt from the BLM, email wildhorse@blm.gov or call 866-468-7826.
A recent aerial census in and around the Devil's Garden Plateau Wild Horse Territory estimated the current population at 1,926 adult wild horses. Data collected during census flights is compared using statistical modeling to estimate sighting rates for observers and provide a conservative population estimate.
###
Please print and post this pdf for others