Extreme Cowboy Association (EXCA) World Championships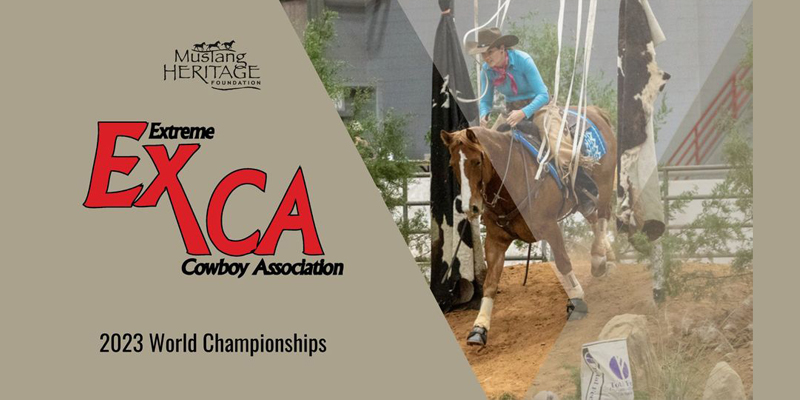 Join us at the Extreme Cowboy Race World Championship show, November 1-5, 2023 in Glen Rose, TX! There are several options to showcase your mustang's skills on the extreme trail course.
𝗡𝗘𝗪 𝗣𝗔𝗥𝗧𝗡𝗘𝗥 𝗥𝗔𝗖𝗘
ANY mustang age 3 or older adopted between November 1, 2022, and October 1, 2023 is eligible for the New Partner Race during the EXCA World Finals. Approximately $10,000 in cash and prizes will be awarded to the Top 10 in this class!
Awards include $3,500 to champion and a Championship Buckle, $2,000 to Reserve Champion, $1,500 to 3rd, and $1,000 to 4th through 10th.
*𝘙𝘪𝘥𝘦𝘳 𝘮𝘶𝘴𝘵 𝘣𝘦 𝘵𝘩𝘦 𝘯𝘢𝘮𝘦𝘥 𝘢𝘥𝘰𝘱𝘵𝘦𝘳/𝘱𝘶𝘳𝘤𝘩𝘢𝘴𝘦𝘳 𝘰𝘯 𝘉𝘓𝘔 𝘱𝘢𝘱𝘦𝘳𝘸𝘰𝘳𝘬 𝘦𝘹𝘤𝘦𝘱𝘵 𝘪𝘯 𝘤𝘢𝘴𝘦𝘴 𝘰𝘧 𝘩𝘰𝘳𝘴𝘦𝘴 𝘢𝘥𝘰𝘱𝘵𝘦𝘥 𝘢𝘵 𝘵𝘩𝘦 2023 𝘔𝘶𝘴𝘵𝘢𝘯𝘨 𝘔𝘢𝘨𝘪𝘤 𝘰𝘳 𝘌𝘹𝘵𝘳𝘦𝘮𝘦 𝘔𝘶𝘴𝘵𝘢𝘯𝘨 𝘔𝘢𝘬𝘦𝘰𝘷𝘦𝘳 𝘦𝘷𝘦𝘯𝘵𝘴. 𝘐𝘧 𝘵𝘩𝘦 𝘩𝘰𝘳𝘴𝘦 𝘸𝘢𝘴 𝘢𝘥𝘰𝘱𝘵𝘦𝘥 𝘢𝘵 𝘵𝘩𝘦 2023 𝘔𝘶𝘴𝘵𝘢𝘯𝘨 𝘔𝘢𝘨𝘪𝘤 𝘰𝘳 𝘌𝘹𝘵𝘳𝘦𝘮𝘦 𝘔𝘶𝘴𝘵𝘢𝘯𝘨 𝘔𝘢𝘬𝘦𝘰𝘷𝘦𝘳 𝘦𝘷𝘦𝘯𝘵, 𝘵𝘩𝘦 𝘳𝘪𝘥𝘦𝘳 𝘤𝘢𝘯 𝘦𝘪𝘵𝘩𝘦𝘳 𝘣𝘦 𝘵𝘩𝘦 𝘯𝘢𝘮𝘦𝘥 𝘢𝘥𝘰𝘱𝘵𝘦𝘳/𝘱𝘶𝘳𝘤𝘩𝘢𝘴𝘦𝘳 𝘖𝘙 𝘵𝘩𝘦 𝘰𝘳𝘪𝘨𝘪𝘯𝘢𝘭 𝘔𝘶𝘴𝘵𝘢𝘯𝘨 𝘔𝘢𝘨𝘪𝘤 𝘰𝘳 𝘌𝘔𝘔 𝘵𝘳𝘢𝘪𝘯𝘦𝘳.*
𝗢𝗣𝗘𝗡 𝗠𝗨𝗦𝗧𝗔𝗡𝗚 𝗗𝗜𝗩𝗜𝗦𝗜𝗢𝗡
New in 2023! EXCA will be hosting a Open Mustang Division at the World Championships open to any BLM-branded mustang. This is a non-qualifying division which means you do not have to compete in qualifying EXCA shows throughout the year to compete in this division. Please refer to EXCA for official division rules and age eligibility.
𝗦𝗣𝗘𝗖𝗧𝗔𝗧𝗢𝗥𝗦
This event is free to the public and spectators are welcome!
Event Location:
Somervell Expo Center
202 Bo Gibbs Blvd.
Glen Rose, TX 76043
Related Events