Draft Horse Classic and Harvest Fair: September 21 – 24, 2023
September 21

-

September 24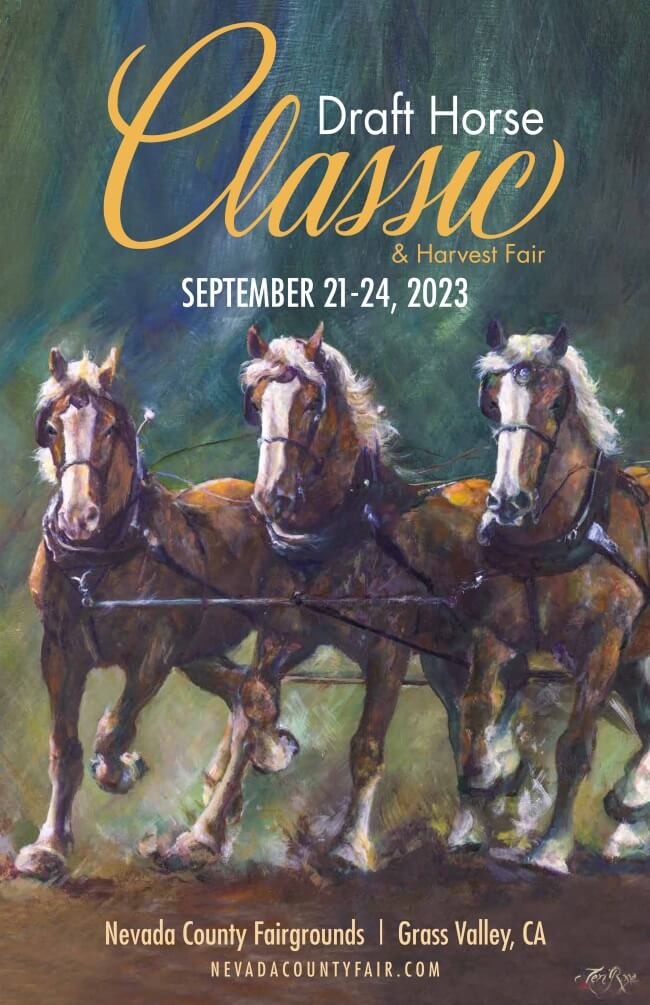 Tickets are now on sale for the annual Draft Horse Classic & Harvest Fair, happening September 21 – 24 at the beautiful Nevada County Fairgrounds in Grass Valley, CA.
Choose from 6 exciting shows, each gives a unique opportunity to see the draft horses perform and compete. See beauty, grace and amazing strength!
If you are purchasing season passes for all six shows and are interested in RVing at the Classic, call us immediately! We have a very limited number of spaces left.
Order tickets by calling the fairgrounds at (530) 273-6217 or stop by the fairgrounds office, 11228 McCourtney Rd., 8 am – 5 pm Monday – Friday.
Visit our website to learn more about the event and shows!
Draft Horse Classic performance tickets will be available at the Arena Box Office during all four days of the Classic.  All tickets purchased after September 20, 2023 are an additional $4/per ticket.
Evening and Late Afternoon Performances:
Reserved seating: $20; General admission: $17
Morning Performances:
Reserved seating: $16; General admission: $13
Children's Tickets (12 & under)
Reserved seating: $13; General admission: $10
Season Pass
$85
Parking: $10 (daily); $20 (event parking pass)
Buy your tickets now!  Click here for ONLINE sales.
Related Events