Making Memories—Queen Rachel Sherrell and Princess Jessica Sayward
By Lynn Jenkins
An empty arena encircled by overflowing grandstands awaited. . . the crowd quieted as the lights dimmed, and according to Rachel Sherrell, behind the scenes ready to make her entrance as the new Queen of the Clark County Fair, she was just moments away from one of the best rides of her life.
The date was March 7, 2020, the event—the Saturday Night Extravaganza at the Washington State Horse Expo, Clark County Event Center.  Queen Rachel of the Clark County Fair Equestrian Court was about to present the colors to officially open the extravaganza.
This was not Queen Rachel's first time performing in front of a large crowd or even her first time carrying a flag, but it was her first time carrying the American flag. "I was just so scared I would mess up," said Sherrell. "Or worse, drop the American Flag."  Little did she know that 20 days later everything would change as COVID-19 swept through Washington State and across the country.
As a fair court veteran, Queen Rachel has proven herself time and time again to be the "perfect, fair ambassador," according to Tawnia Linde, Clark County Event Center's Director of Marketing. As more and more local and national events began to cancel and with Governor Inslee's stay-at-home order, a difficult decision was made in the best interest of community to not hold the traditional fair this year. This was not a decision that was made lightly (nor made quickly) but made to ensure the health of everyone involved with the fair from attendees to staff and volunteers. We decided to postpone to 2021.
"One decision that was not hard," according to Linde, "was to roll the 2020 Equestrian Fair Court over to 2021, "We could not have a better court than Queen Rachel and Princess Jessica to represent us‑whether it's a traditional fair or our digital Best of the Fair this year."
Meet Queen Rachel
Queen Rachel Sherrel graduated from La Center High School with honors and achieved the Presidential Honor Roll at Clark Community College. She is currently working hard to complete her prerequisites for the
nursing program at Clark in hopes of earning her Bachelors of Science in nursing.
Her first encounter with fair royalty came when she was competing in 4-H as a nine-year-old at the fair. She was having trouble putting a halter on her horse who kept his head just out of her reach. "Suddenly there was the most beautiful lady at my side helping me," said Sherrell. "She had a big hat, big hair, and the biggest smile. That was the beginning of my love affair with the Fair Court."
However, admiring from afar and actually trying out are two different things. "I had so much self-doubt and am actually very shy." But with the encouragement of friends and family, Sherrell tried out for and made the 2019 court as a princess. "The experience was so empowering. The new skills I learned like public speaking and how to present yourself in your best light are only equaled to the lifetime memories I made."
The experience was such a positive one that she decided to give it another year. Along with her lifelong partner Roxie, an Appendix Paint horse, Sherrell tried out for the fair court again in 2020. "We were thrilled to have her back, this time as our queen," said Linde. "Rachel has everything you want in a queen; grace, poise, hard-working, dedication. She's a positive role model and shining example of the best of our community's youth."
"Not only is Rachel a hero for our fair community, she is also a real hero in our community at-large," said Linde. "To pay for her college expenses, Queen Rachel earned her Certified Nursing Assistant (CNA) and is using it to work with our most at-risk citizens in a locked-down senior facility—Fairway Village." Linde said, "We could not be prouder of Rachel and it's no surprise to us that she is working on the front lines."
"As you can imagine, our people are getting really bored in quarantine," said Sherrell. "One of the most fun things we did was put together a parade in the parking lot that the residents could view from their windows."
"I love riding in parades and was really missing them this year. This was a great opportunity to glam and glitz it up with Roxie and join in the parade to put on a show for all the residents I love so much."
Meet Princess Jessica
An aspiring veterinarian, Princess Jessica Sayward, a Woodland High School graduate, has already earned her Associate's degree in biology.  The next step is a Bachelor's degree from Washington State followed by a transfer to Pullman's Veterinary program. At least that was the plan. Then COVID-19 happened.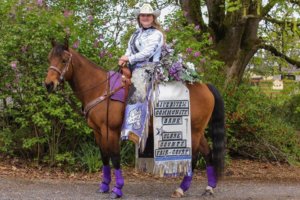 "I am a goal-oriented planner," says Sayward. "I've had my plans knocked sideways. But that's okay.  I will take a step back, reevaluate, and set new goals." Sayward planned on being really busy this year between the fair court, school and working; now with more time on her hands than she anticipated she is turning her goal-setting skills towards her other dream—becoming a Western State Stock Horse Association top trainer and competitor. As a youth amateur, she already has an impressive amount of championship wins under her belt in Cow Horse, Reining, Trail and Ranch categories.
"I am a dreamer," said Sayward. "A big dreamer. But I know the difference between dreams and fantasies. I know how to work hard to achieve my dreams." She says she knows that it is not going to be easy to become both a large animal veterinarian and a top horse trainer, but she believes with hard work and goal setting she can make it happen. And if her goals get knocked back like they did this year? "It is just a different opportunity. School is delayed a year, but I get to spend an extra year on the fair court, said Sayward. "An extra year of honing my personal skills and working on my lack of self-confidence."
"I always fantasized about being a rodeo queen, but it was just that, a fantasy, not an achievable goal."  Although she loved the idea of mixing her love of horses with glitter and hair spray, she always thought the queen's courts were more beauty pageant than horsemanship—and she didn't see herself in a pageant.
That all changed last year when one of her good friends and our 2019 Fair Court's Queen Sarah showed Sayward, that not only could she be a great addition to the court, but that the court was so much more than a beauty pageant. "It is an opportunity to have an impact on people. If I can show one person that they too can reach for and achieve their dreams—then it's a good day."
The parades may have all been canceled but that hasn't stopped Sayward from getting out the glitter, the sparkly crown, big hat and bringing a smile to her neighbors.  "If people can't go to the parade, I will bring the parade to them." Dressing both herself and her Quarter Horse, DeeJay, in all their parade regalia, she rode up and down her street to give her neighbors a great show all the while exercising social distancing.
A young lady with big dreams that doesn't take no for an answer, Sayward sums it up best when she describes herself as, "I'm a go get 'em kind of gal."
Ride of a Lifetime
Back in March, sitting on Roxie behind the barrier at the extravaganza and set to enter the arena all Sherrell could think about was "how proud I was to be carrying our flag and how scared I was I might disrespect it by dropping it.
"Then the National Anthem started playing and it was time. I wasn't ready even as Roxie and I entered the arena slowly building speed with each lap until before I knew it, we were flying at a gallop as fast of Roxie could run, the flag proudly waving behind us." According to Sherrell, her nerves got the better of her and she was becoming overwhelmed but then the "most amazing" thing happened. Roxie took control of the ride.  "It was my most perfect ride on her ever. We have never been more in sync as she took over and carried me thru the performance.  It was her moment to lead the team and shine–and she blessed me with a memory of a ride that will last lifetime.  I will never forget the first time I carried our American Flag and the ride that accompanied it."
That is what the Clark County Equestrian Fair Court is all about. Creating memories that will last a lifetime for both themselves and for the people they impact.
See this article in the 2020 October online edition: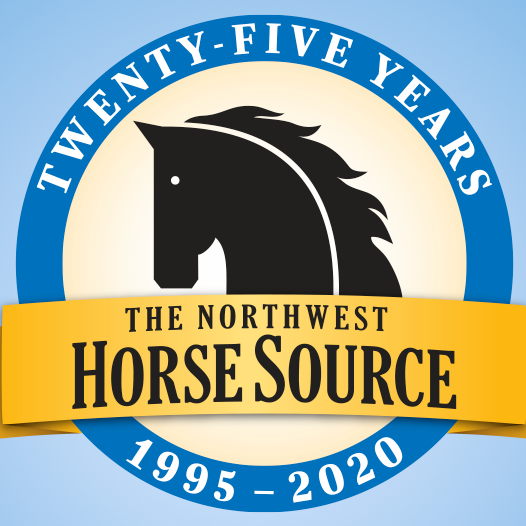 The Northwest Horse Source is an independently owned and operated print and online magazine for horse owners and enthusiasts of all breeds and disciplines in the Pacific Northwest. Our contemporary editorial columns are predominantly written by experts in the region, covering the care, training, keeping and enjoyment of horses, with an eye to the specific concerns in our region.