DM Healthcare Products, Inc. launches innovative new horse hoof protection system – ProShield by N'Dura Hoof.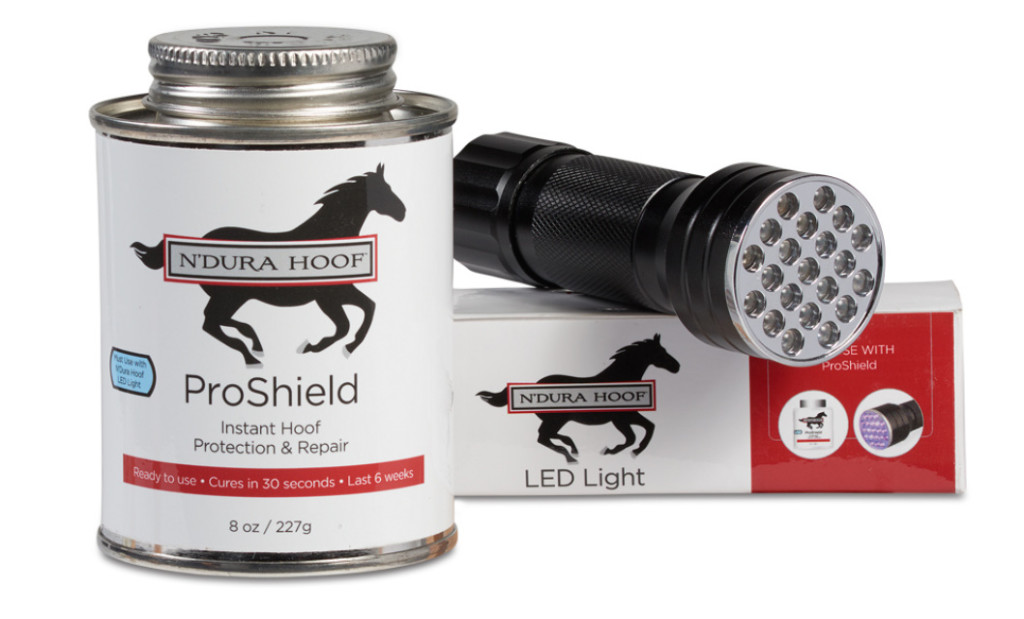 DM Healthcare Products, Inc., a leading authority on innovative adhesive materials, is proud to introduce its breakthrough new hoof protection product for horses – ProShield by N'Dura Hoof. This revolutionary new application is the first-ever UV cured urethane gel that is EASY – can be applied by both farriers and horse owners in minutes,  FAST – cures completely in 30 seconds, and DURABLE – protects and repairs hooves for 6 weeks. ProShield is also SAFE – with no harsh chemicals or solvents.
INNOVATIVE TECHNOLOGY FOR SUPERIOR PROTECTION
ProShield's innovative technology combines both dental adhesive and nail salon gel technologies,  solving the most challenging hoof care issues in one easy to use application.
The N'Dura Hoof ProShield System is comprised of ProShield Instant Hoof Protection & Repair and the LED Light.
ProShield Instant Hoof Protection & Repair is applied to the exterior hoof wall and is cured for 30 seconds with the N'Dura Hoof LED Light:
Ready to use – no mixing or preparation
Cures instantly in 30 seconds with the N'Dura Hoof LED Light
Lasts 6 weeks
Safe – no harsh chemicals or solvents
Provides a waterproof, protective coating
Protects against and repairs cracks, chips and splits
Stays strong and secure but allows the hoof to breathe and flex naturally
ProShield contains photoinitiators that react when exposed to the specific output of the N'Dura Hoof LED Light, creating a strong web of cross-linked adhesive polymers which then harden and secure to the natural hoof surface.

ProShield is being launched with a special offer – buy one can of ProShield, get the LED Light and shipping FREE!

For more information and to purchase the N'Dura Hoof ProShield System, please visit www.ndurahoof.com.

About DM Healthcare Products, Inc.  
The founders of DM Healthcare Products, Inc. have a long history of advanced innovation in the electronic materials, dental adhesive and nail salon gel industries. They are located in San Diego, home to one of the largest horse populations in the country, and manufacture ProShield onsite.

<!-comments-button-->