by Robert Eversole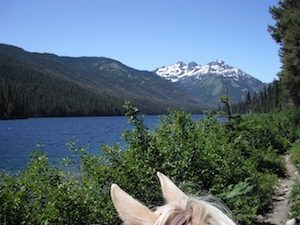 Backcountry Horsemen: two words that represent so much. The vastness and freedom of the backcountry is a gift. Much of the environment remains as it has been for millennia, with no machinery, few people and endless starry night skies. All of this is accessible from the back of a willing horse or mule. Unfortunately, the simple logistics of everyday life mean that most of us are predominantly front country horsemen, trying desperately to find the time to visit a simple local trail after work.
Fortunately for Washingtonians, we have 31 glorious wilderness areas we can escape to, and many of them are also remarkably easy to access. Listed below are two of my favorite backcountry wilderness areas that have established horse camps.
Waptus Lake/Alpine Lakes Wilderness: Mount Baker-Snoqualmie and Wenatchee National Forests
Ten miles from the trailhead, the official horse camp is located midway along the length of the north side of the lake. With few easily found grazing areas located adjacent to the main trail into the camp, this is an area where feed will have to be packed in for the duration of your stay. The extra work is well worth it though as this long and narrow lake sits directly underneath the fabled Dutch Miller Gap flanked by the imposing Bears Breast and Summit Chief Mountains that tower overhead and offer awe inspiring views. Watching clouds from the west side form and break through the gap into the blue skies of eastern Washington is impressive to say the very least.
Basin Lake/Norse Peak Wilderness: Mount Baker – Snoqualmie National Forest
Mountain goats are often viewed clinging to the sheer rocky cliffs that tower above the lake, appearing to flaunt the laws of physics and gravity as they effortlessly leap and bound from one imperceptible toe-hold to another. Best accessed from the Crystal Mountain Ski Resort area, and less than 10 miles from the trailhead, Basin Lake can also be visited as a day ride, but the light show on the rocky cliffs over the lake as the sun sets and rises are best experienced with an overnight stay. Extra feed is typically unnecessary as the lake is bounded by a lush meadow that provides wonderful grazing opportunities.
When you venture into these wilderness areas, or any other, there are a few items to remember that will help you to enjoy your trip. Not only does the Federal Wilderness Act specify that mechanical devices are not allowed within the wilderness boundaries, Washington State law also provides for significant penalties for even the possession of motorized equipment in a wilderness area.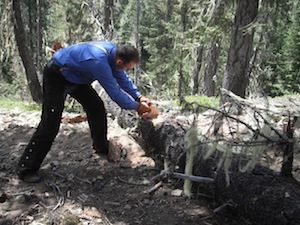 Wilderness areas are excellent places for individual and small groups. Indeed, the Wilderness Act of 1964 specifically mentions "…outstanding opportunities for solitude…" in the body of the legislation. This solitude is maintained through the "heartbeat regulations" that limit the number of horse and riders that can travel together. Simply count the number of living animals (things with a heartbeat) and that total can't exceed the maximum number of heartbeats designated for the area. Twelve heartbeats is a common maximum amount.
"Leave No Trace" (LNT) is a concept known to many. Unfortunately, it is practiced only by a few. The simplest and easiest thing that we, as trail stewards, can do is to pack out whatever we pack in. Check your campsite and rest areas for trash and take it home. If you see garbage on the trail, stop and take it out, too. These straightforward actions will not only help keep the wilderness pristine, but will also set a positive example for others that use the trail.
As always, for more information visit trailmeister.com.
Published July 2014 Issue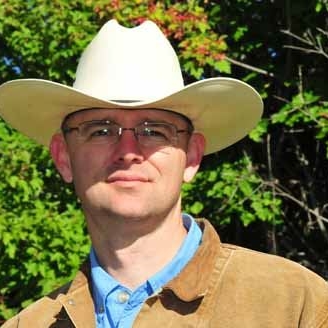 Robert Eversole, "the trail meister," owns www.TrailMeister.com, the largest database of horse riding and camping areas in the U.S. with free trail and trailhead information, trail maps, and much more to help horse enthusiasts experience the joys of trail riding. Robert is a registered riding instructor with PATH International, a mounted search and rescue team member, and a U.S. Marine who has served on the board of the Backcountry Horsemen of Washington (BCHW). He is enjoying his new career helping fellow trail riders stay found and safe on the trail. When not on the trail, The Trail Meister resides near Spokane, WA and teaches land navigation to a wide variety of outdoor groups across the nation. For North America's largest horse trail and camping directory, trail tips, and more, visit www.TrailMeister.com.