Juniper Dunes
by Robert Eversole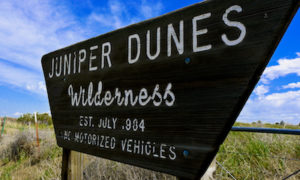 Despite the common notion that Washington State is a place of cool mists, ferns and towering firs, the fact of the matter is that a majority of the state is desert. The Cascade Mountain Range casts a rain shadow effect over two thirds of the eastern part of the state. This arid landscape is home to the Juniper Dunes Wilderness: 7,140 acres of massive windswept sand dunes and a few areas containing the northernmost specimens of western juniper trees (the only trees in the area).
As one might guess from the landscape, this area takes quite a pounding from the elements. Frequent strong winds combined with the lack of moisture and high summertime heat create a desert environment that is an absolute delight for trail riders. Riding through sand dunes that are over a hundred feet high and ten times that long is an amazing feeling.
Getting to Juniper Dunes can be more of a challenge than the riding itself. The "official" Bureau of Land Management access route is from the south, but this forces riders to pass through about six miles of a heavily used OHV area before reaching the serenity of the non-motorized wilderness area. A better choice is to enter from the north, courtesy of a local rancher who has an agreement with the BLM. From this parking area riders have only to ride about 200 yards before entering the wilderness. Once you've entered this desert oasis of dunes and Sahara-like scenery you'll find no maintained trails; this is open country riding. Since there are no trails for guidance, be sure to keep an eye on your location and, most importantly, where you are in relation to the parking area. A GPS unit can be very handy for there are few natural landmarks to help guide the way.
Although disbursed camping is allowed within Juniper Dunes, the lack of water makes this area best suited for day rides. For more information visit www.blm.gov
Originally Published September 2014 Issue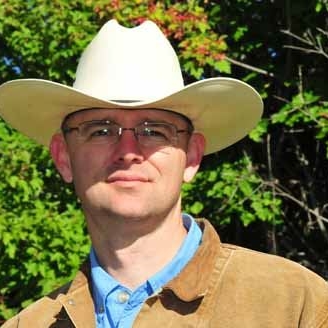 Robert Eversole, "the trail meister," owns www.TrailMeister.com, the largest database of horse riding and camping areas in the U.S. with free trail and trailhead information, trail maps, and much more to help horse enthusiasts experience the joys of trail riding. Robert is a registered riding instructor with PATH International, a mounted search and rescue team member, and a U.S. Marine who has served on the board of the Backcountry Horsemen of Washington (BCHW). He is enjoying his new career helping fellow trail riders stay found and safe on the trail. When not on the trail, The Trail Meister resides near Spokane, WA and teaches land navigation to a wide variety of outdoor groups across the nation. For North America's largest horse trail and camping directory, trail tips, and more, visit www.TrailMeister.com.