Planning a Commercial Equestrian Facility
by Rick Vranish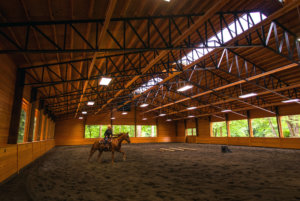 Many equestrians dream of turning their love of horses into a career. One of the most popular ways to make that dream a reality is by opening a commercial boarding or training facility. Such facilities generally consist of a covered or indoor arena and a barn with stalls and storage for tack, hay, and equipment.
Designing and building a commercial equestrian facility can be a long journey, but you can save yourself months of headaches with proper planning and preparation by getting the right help and advice. DC Structures, a nationwide leader in pre-engineered barn and barn-home packages, is here to help. DC offers the following tips of what to look for and what questions to ask when planning the barn of your dreams.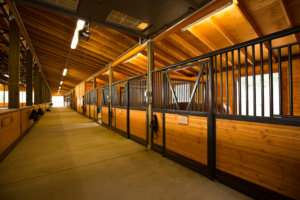 Location, Location, Location
There are a few important factors to consider when evaluating whether a property is a good fit. The physical characteristics of the property can make a big impact on your bottom line. You'll want to make sure your property has plenty of room for parking and easy in-and-out access for horse trailers. If you're building a covered arena, you'll need access for construction vehicles up to 80 feet long.
It's important to choose a building site that is level and has good drainage. Equestrian facilities can be very large––excavation and sitework to level out the site can get expensive fast. A soil analysis, required for many building permits, can measure the moisture content and consistency of the ground to determine whether the land is a good fit for a large structure.
Zoning can also impact your plans. Most potential barn owners are looking at agricultural, commercial, or residential-zoned property for their facility. Each zoning type has advantages and drawbacks, and the regulations that affect them are different depending on the city or county you're looking to build in. Get involved with your local building department early in the process.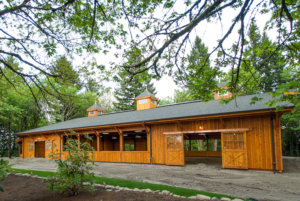 Visit Your City or County Planning Department
One of the best ways to prepare your equestrian business is to visit your local planning department to learn about any restrictions that could increase your costs or limit your ability to do business. You'll want to find out if parking is required, the setback and height restrictions for the property, and whether your facility needs to be ADA (Americans with Disabilities Act) compliant. If you live in an area with harsh winters, ask about required snow loads. Large arena-style structures cost much more to build when they are required to withstand heavy snow loads.
If you're planning a mixed-use facility with office space or a residence, be sure to find out if a sprinkler system is required. Such systems cost tens of thousands of dollars and can throw off your return on investment for the whole project.
Holding events like weddings is a popular way to add a source of revenue but be sure to look up your local regulations about hosting large gatherings. Agricultural and residential properties are often restricted to a limited number of events per year. If your business plan calls for a facility to hold more than 300 people, expect to face much stricter building code requirements.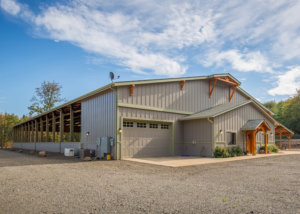 Hire Experienced Equestrian Design Professionals
You will always be your business's best advocate—but it's hard to go it alone. When you understand what's possible on your property, seek out an experienced equestrian design professional with the expertise to explain the costs involved and help you find a solution within your budget.
You'll want to work with a team that understands horse safety and unique equestrian design features. They should also be able to help you find a reputable contractor and submit for permits. Make sure to ask if they have a structural engineer who is licensed in your state.
DC Structures of Damascus, Oregon has experienced designers who provide the most detailed and buildable blueprints in the industry. DC Structures sources only the finest materials—including heavy timbers from the Pacific Northwest. They create stunning building packages that are as functional and durable as they are attractive.
Any business project is made easier with a great location, proper planning and sound design. If you can put all three together, you might just be able to launch the equestrian facility of your dreams!
DC Structures offers America's best and most complete line of post-and-beam building kits. Whether you're searching for a full-scale boarding and training facility or a barn for just your own horses, or a one-of-a-kind luxury barn house to call home, DC Structures has a product that will meet your needs. With dozens of plans and hundreds of upgrades and finishes to choose from, DC can help you modify a kit that will suit your unique lifestyle.
To learn more about DC Structures, view kits, or order a catalog go to dcstructures.com or call 888.975.2057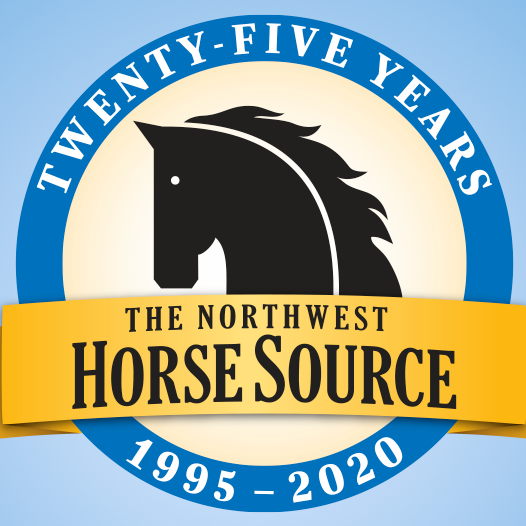 The Northwest Horse Source is an independently owned and operated print and online magazine for horse owners and enthusiasts of all breeds and disciplines in the Pacific Northwest. Our contemporary editorial columns are predominantly written by experts in the region, covering the care, training, keeping and enjoyment of horses, with an eye to the specific concerns in our region.