Control the Smell with this Easy Solution
by Alayne Blickle, Horses for Clean Water
The "black spot of ick" is how Jay Mirro refers to the paddock area where some horses repeatedly urinate so that it becomes nasty and smelly. Mirro is a senior farm planner for King Conservation District outside of Seattle, Washington, a populated area of the Pacific Northwest known for its high concentration of horse owners and home owners. These home owners want to live in a rural area, but may not be as tolerant of odors as horse owners.
"If an area develops where the horse urinates perpetually, you may have to dig out and replace gravel in that area. Don't let it get to that point where you dread going to the barn or have to go out with a clothespin on your nose," says Mirro with a smile. "Just replace a little bit of the footing once in a while."
Since horses tend to urinate in an area where it won't splash, use this to your advantage and create an inviting "soft spot" in their outdoor paddock where they might want to urinate. Then you can trap that urine in a compostable product that you regularly remove, creating a sort of a horse urinal. That's just what Patricia Cosgrove of Enumclaw, Washington did on her four-acre horse property with three equines.
Here is her recipe for creating a horse urinal:
Identify where your horse routinely urinates
Dig out a shallow, slopped sided depression, approximately 3 inches deep, 2 feet x 4 feet wide
Sprinkle with ½ bag zeolite product (for odor control)
Spread one bag bedding pellets in the hole
Hope your horse continues to use their favorite spot!
Remove all (soaked & discolored) bedding pellets monthly, compost
Repeat
Good luck and here's to less odors this summer!
Check out the Horses for Clean Water website for information on innovative programs such as:
ENUMCLAW, WA
Trinity Ranch
Saturday, September 23, 9 am to noon
WORKSHOP:  Small Farm Equipment for Horse and Livestock Owners  Register at 425-282-1949 or signup@kingcd.org or kingcd.eventbrite.com
THURSTON COUNTY, WA
Location TBD
Sunday, September 24, 1 pm – 3 pm
WORKSHOP: Fall in Place for Winter Details & registration: NWhite@thurstoncd.com or 360.754.3588 ext. 105
Originally Published July 2017 Issue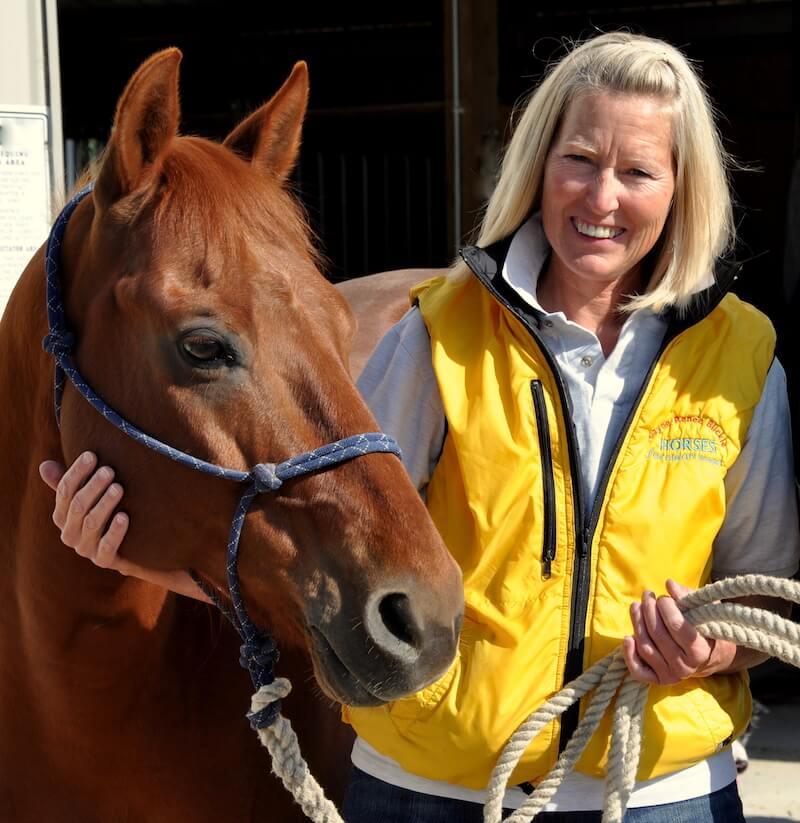 Alayne Blickle, a life-long equestrian and educator, is the creator/director of Horses for Clean Water, an award-winning, nationally acclaimed environmental education program that "wrote the book" on caring for horses and land. Known for her enthusiastic, fun and down-to-earth approach, she is an educator and photojournalist who has worked with horses and livestock owners for over 20 years. Alayne teaches and travels throughout North America and abroad, and also runs Sweet Pepper Ranch, an eco-sensitive guest ranch and horse motel in Southwestern Idaho where she and her husband raise top-notch reining horses and beautiful grass hay. For more information contact Alayne at alayne@horsesforcleanwater.com or 206-909-0225.