2017 Event Schedule
by Jennifer Burnell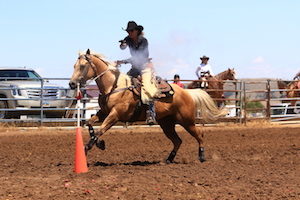 Adult Mounted Shooters compete in this fast-action timed event using two .45 caliber single action revolvers. The guns are each loaded with five rounds of specially prepared blank ammunition that will break a balloon up to about 15 feet, so the event is safe for spectators. Each contestant engages a preset course of 10 balloons.  There are approximately 60 different courses organizers can choose from.
Opportunities for youth are also available.  There are 2 Wrangler (youth) divisions –  Limited Wranglers, which are through age 9, and the Open Wranglers, for ages 10 and 11. The riders in the Wrangler divisions ride the same pattern that the grown-ups do, but they shoot cap pistols, engaging each target as if they were shooting real blanks. Then, after the main match, the Wranglers shoot the real thing (.45's with blanks). They shoot 5-balloons from the ground while standing stationary, with mom or dad at their side. Our youth learn firearm education and safety from a young age!
Learn more about WWMS on Facebook or at www.CowboyMountedShooting.com.
2017 Event Schedule
March 26, 2017 – Bar 88 Shootout II, Molalla Oregon
April 8, 2017 – WWMS Benefit Shoot, Boardman Oregon
April 30, 2017 – Bar 88 Shootout III, Molalla Oregon
May 12-14 2017 – Owens Meats Spring Shoot, Chelan County Fairgrounds
Aug. 13-14 – Western Washington Mounted Shooters, Sedro-Wooley, Washington
Originally Published March 2017 Issue
WWMS members vary from kids to adults, and from the recreational shooter to the serious National and World competitor, so there's a spot for everyone. We are a friendly group, and enjoy introducing the sport to others. Please feel free to contact us at any time, and come join the addiction that is Cowboy Mounted Shooting!!! www.WesternWashingtonMountedShooters.com