Makes Hair Easier to Brush and Comb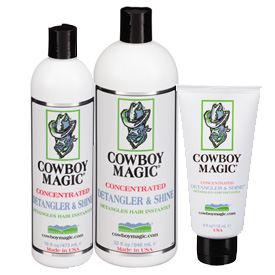 You want your horse looking its best …What do you do? Use Cowboy Magic Detangler & Shine to remove knots and tangles, making it easier to brush or comb hair. This concentrated, deep conditioning, silk protein product contains no water or alcohol, leaving hair detangled with a luxurious long-lasting shine.  It also helps by deeply penetrating the mane and tail to restore moisture and strengthen hair. A must- have grooming product for your tack box!
Cowboy Magic Detangler & Shine Benefits:
Instantly detangles knots, no matter how difficult hair is to manage, your brush will glide right through.
Deep conditioning properties restore moisture without build up; leaves hair with a silky, high-reflecting shine.
It's concentrated, contains no water or alcohol, and is ideal for all hair types.
Helps to repel dirt, dust, etc…and will save time for your next groom.
You only need a nickel-sized drop – a little bit goes a long way-saving time and money.
Dermatologist and allergy tested.
Available sizes: 4 oz., 16 oz. & 32 oz.
Now you know what to do! Use Cowboy Magic Detangler & Shine for that show-stopping magical, brilliant shine. Stand back and prepare to smile! Now you're looking good! Cowboy Magic…When Performance Counts! For more information please visit: www.cowboymagic.com or call 1-800-827-9815.
Straight Arrow Products, Inc., for forty-five years has been providing exclusive hair and skin care products renowned for our quality and performance in both the Equestrian and Personal Care markets. We've honed our roots by initially producing under the brand names Mane 'n Tail®, Hoofmaker®, and Mineral Ice®. Naturally expanding to accommodate people, as the equestrian audience discovered a valuable 'secret', that the products they were using on their horses, created remarkable results when used on them, as well. Straight Arrow continues to manufacture all of its own products right here in the USA, adhering to strict quality assurances, guidelines and consistently meeting a high performance standard. One of our latest creations for the Straight Arrow product selection, Conceived by Nature ® is a natural and organic personal care line.  Recently, for our Equestrian business, we acquired another family owned brand, Cowboy Magic, another high quality performance grooming line that is the newest member of the Straight Arrow family of products. Our credo is to "Satisfy the Customer" which has been our company's tradition from day one. Straight Arrow presently sells its products in over 150,000+ locations throughout North America and internationally.  Straight Arrow Products, Inc. 2020 Highland Ave. Bethlehem, PA 18020  phone: 610-882-9606 x129 www.straightarrowinc.com.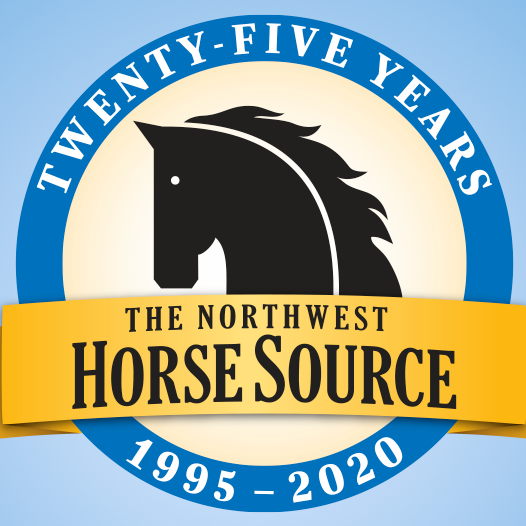 News from the horse industry. Sharing today's information as it happens. The Northwest Horse Source is not responsible for the content of 3rd party submissions.