by Alayne Blickle, Horses for Clean Water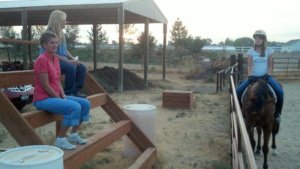 Our horse property, Sweet Pepper Ranch, is a guest ranch and horse motel. That means we need to have certain amenities in place and are always shopping around for low-cost, effective ideas for making our place more useable. These simple, low-cost bleachers are easy to construct and fit the bill for us, providing a nice arena viewing area for guests and visitors. The version we built cost us about $1200, including the labor we hired out. Here's how to construct some for your own horse property. 
Materials:
Treated wood:
4 – 2 x 8 x 8 treated boards for the seats
4 – 2 x 6 x 8 treated boards for bracing under seats
2 – 2 x 10 x 10 treated boards for side boards
3 – 4 x 4 x 8 treated boards for corner posts
Wood screws
Miscellaneous scrape pieces of wood to be used as braces for seats.
Tools needed:
Carpenter's lever
Cordless drill
Circular saw
The process:
Dig holes to bury 4×4's for four corners of structure. Using string, even out all four corners so that they are square to each other and even. Cement can be used to stabilize corners.

After cement has set, attach 2×10 side boards from front to back on each side of bleachers. Choose the angle you want, but keep in mind that this effects the seating arrangement; steeper will allow you to have the seats closer together without having as much space between seats.

Attach rows of seats appropriate distances apart (with the materials listed here you will end up with four rows of seats.) Use a carpenter level when installing.

With seats in place, "T" the 2 x 6 under the 2 x 8 seat row as a brace for stability.

Use the smaller pieces of wood under the seat row to attach on the side boards for added support.

Repeat process for the number of seats you'd like.
This is how we did ours at Sweet Pepper Ranch but there are many variations on how this kind of a project can be assembled. Some variations you can choose from: wider width seats (i.e. use bigger boards), use pre-constructed stringers on the diagonal where seats are attached, rows can be all seats, etc. Happy seating!
Summer Workshops:
CAMANO ISLAND, WA
Saturday, June 15, 9 am – 3 pm
Camano Multipurpose Room
WORKSHOP:  Green Horse & Camelid Management
Register: greenhorseandcamelid.eventbrite.com or 425-335-5634, ext 4
PRESTON, WA
Sunday, June 16, 1 pm to 3 pm 
FARM TOUR: Laughing Horse Farm.
Register:  signup@kingcd.org or 425-282-1949
BOW, WA
Monday, June 17, 6:30 to 9 pm
Padilla Bay Research Reserve, Bow, WA
WORKSHOP: Fresh Ideas for Creating Winter Confinement Areas for Livestock and Horses
Register: kristi@skagitcd.org or 360-428-4313
FALL CITY, WA
Tuesday, June 18, 6:30 to 8:30 pm 
FARM TOUR – details TBD 
Register:  signup@kingcd.org or 425-282-1949
BLACK DIAMOND, WA
Tuesday, August 27, 6:30 – 8:30 pm
WORKSHOP: Shopping for Horse Property  
Register:  signup@kingcd.org or 425-282-1949
MONROE, WA
Wednesday, August 28, 7 pm
Evergreen State Fair
4-H Ice Cream Social & Green Horse-Keeping
Register at: icecreamandgreenhorses.eventbrite.com or 425-335-5634, ext 4
ENUMCLAW, WA
Thursday, August 29, 6:30 – 8:30 pm
FARM TOUR: Boise Creek Goats
Register:  signup@kingcd.org or 425-282-1949
Published June 2013 Issue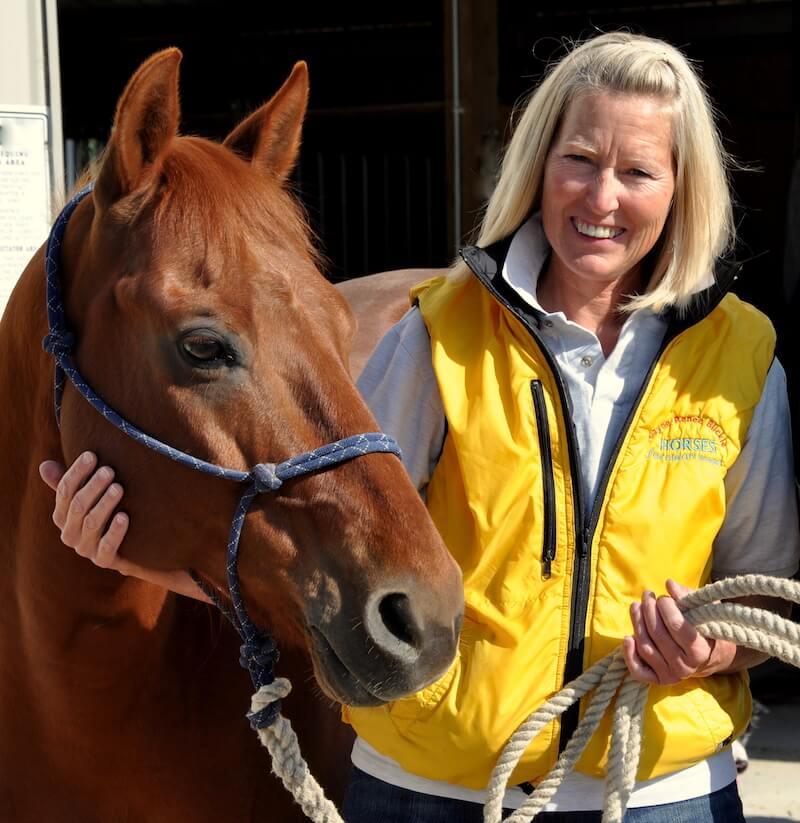 Alayne Blickle, a life-long equestrian and educator, is the creator/director of Horses for Clean Water, an award-winning, nationally acclaimed environmental education program that "wrote the book" on caring for horses and land. Known for her enthusiastic, fun and down-to-earth approach, she is an educator and photojournalist who has worked with horses and livestock owners for over 20 years. Alayne teaches and travels throughout North America and abroad, and also runs Sweet Pepper Ranch, an eco-sensitive guest ranch and horse motel in Southwestern Idaho where she and her husband raise top-notch reining horses and beautiful grass hay. For more information contact Alayne at alayne@horsesforcleanwater.com or 206-909-0225.