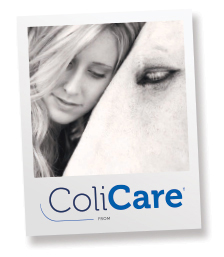 As the nation's leading equine supplement retailer, SmartPak is committed to supporting healthy horses. Recently, an independent survey showed that ColiCare™ by SmartPak was named the number one recommended colic surgery reimbursement program amongst equine veterinarians. ColiCare is a FREE veterinarian-directed wellness program that provides up to $7,500 in colic surgery reimbursement.
"Earning the #1 ranking as the best colic surgery reimbursement program reflects the thought that we have put into the organization of this program, which has been well received by both veterinarians and horse owners," said Dr. Lydia Gray, SmartPak's Staff Veterinarian and Medical Director. "We designed ColiCare to put the veterinarian back at the center of the horse's care, as well as help to ease the financial burden of colic surgery on horse owners. We take pride in knowing that our ColiCare program is recommended by veterinarians and horse owners alike."
Since it launched in 2012, ColiCare has helped thousands of horse owners enjoy the ultimate peace of mind by supporting their horse's health and ensuring they have the financial resources to provide the care every horse deserves. The ColiCare program requires annual wellness services from the veterinarian along with daily administration of a digestive support supplement in SmartPaks. There are six different supplements that are eligible for ColiCare coverage, from a basic hindgut formula to multi-purpose formulas that provide support for joint, hoof, skin, coat, and hindgut health. All six supplements provide the same comprehensive hindgut support to help horses maintain digestive balance.
Over the last four years, ColiCare has become increasingly popular with veterinarians and horse owners. Marsha Severt, DVM, of North Carolina said, "As an equine veterinarian I'm thrilled that SmartPak offers this program and in addition to having my personal horses enrolled in it, I recommend it to all my clients."
As a horse owner, Annie Favreau never thought she would have to put one of her horses through colic surgery, but when the unthinkable happened, she had ColiCare on her side. Favreau said about her experience with ColiCare: "When Rocky had to have colic surgery, having ColiCare took the stress and financial burden out of the picture. We were able to make all the best choices for his care and well-being. I am so thankful that I was part of the program."
One of the top reasons that horse owners recommend ColiCare coverage to others is because of the quick and simple reimbursement process – but it's certainly not the only reason. There are many other horse owners who enjoy the peace of mind that ColiCare coverage gives them. Horse owner Laurel Perrigo said "I love that ColiCare provides $7,500 of colic surgery reimbursement should we ever need it, while also helping keep my horse Trader healthy."
Enrolling in ColiCare is fast and easy, and horse owners can sign up online or over the phone with one of SmartPak's supplement experts. To enroll your horse in ColiCare and get the ultimate peace of mind today, visit www.SmartPak.com/ColiCare
About SmartPak
From the feed room to the tack room, SmartPak offers innovative solutions to help riders take great care of their horses. SmartPak was founded in 1999 with the introduction of the patented SmartPak supplement feeding system. The revolutionary, daily dose SmartPaks are custom-made for your horse, individually labeled and sealed for freshness. With the success of this simple and convenient feeding system, SmartPak has continued to expand its offering of quality products, including its own line of more than 55 supplement formulas called SmartSupplements, and a wide variety of tack, equipment, and supplies. The company has grown rapidly each year and is now the largest retailer of equestrian products in the United States. SmartPak's success has been powered by a passion for delivering an unbeatable customer experience, and the company has been recognized with a Bizrate Circle of Excellence award five years in a row, as well as receiving an "Elite" rating from STELLAService. A nine-time Inc. 500/5000 honoree, SmartPak is the only equine company ever named to the Inc. 500 list.