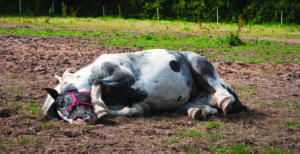 Unfortunately, some horse owners know the signs of colic all too well. Poor performance, decreased appetite or poor body condition are all signs of ulcers.1 Another possible sign of ulcers? Recurrent colic.1 At the basic level, colic is defined as abdominal pain.2
But what causes colic? Anything from a buildup of gas, spasms in the wall of the intestine or impaction of feed material causing blockage in the intestine can all be colic.2 Sometimes inflammatory or ulcerative diseases can lead to colic. Yes, that includes stomach ulcers, although they typically result in milder signs.2
With two out of three non-racing competitive horses affected by stomach ulcers,3 horse owners should be aware recurrent colic is a sign.1
When Debbie Barber's horse, Skip the Revolution, a 5-year-old AQHA gelding, showed signs of colic last year, her vet thought for sure it was caused by an impaction. When the colic returned a week later, Barber followed up with Michigan State University, and while the signs likely indicated an impaction colic, the physical and ultrasound exams were inconclusive as to a cause. The next step in diagnostics was gastroscopy, which showed bleeding ulcers.
"My horse had all the telltale signs of colic – we thought for sure it was a blockage, but it turned out he had a severe stomach ulcer," Barber says. "After a treatment with GASTROGARD® (omeprazole) and some management changes including more turnout and a slow-feed hay bag, he is healthy and able to compete at his best. Now, I also make sure I prevent ulcers with ULCERGARD® (omeprazole) before, during and after a show when my horse could be stressed."
To treat stomach ulcers, use GASTROGARD, the only medicine that's proven and FDA-approved to treat equine stomach ulcers.1 To lessen your horse's chance of ulcers, make sure you prevent equine stomach ulcers with ULCERGARD, the only medicine that's proven and FDA-approved to prevent equine stomach ulcers.4
If your veterinarian suspects stomach ulcers, he or she may recommend a gastroscopy, the only way to definitively diagnose equine stomach ulcers.5
It's always important to consult with your veterinarian on possible causes of colic.
About Merial
Merial is a world-leading, innovation-driven animal health company, providing a comprehensive range of products that focus on disease prevention and overall health and wellness in animals. Merial has three main business areas: pets, farm animals, and veterinary public health, and our health solutions target more than 200 diseases and conditions across a variety of species. Merial employs 6,900 people and operates in more than 150 countries worldwide with over €2.5 billion of sales in 2015. Merial is a Sanofi company. For more information, please see www.merial.com; @Merial.
IMPORTANT SAFETY INFORMATION:
ULCERGARD can be used in horses that weigh at least 600 pounds. Safety in pregnant mares has not been determined.
Caution: Safety of GASTROGARD in pregnant or lactating mares has not been determined.
®GASTROGARD and ULCERGARD are registered trademarks of Merial Limited.
©2016 Merial, Inc., Duluth, GA. All rights reserved. EQUIUGD1652 (10/16)
1GASTROGARD product label.
2House A. A Horse Owner's Guide to Colic. College of Veterinary Medicine, University of Florida. Available at: http://extension.vetmed.ufl.edu/files/2011/10/Horse-Owners-Guide-to-Colic.pdf. Accessed July 29, 2016.
3Mitchell RD. Prevalence of gastric ulcers in hunter/jumper and dressage horses evaluated for poor performance. Association for Equine Sports Medicine, September 2001.
4ULCERGARD product label.
5McClure S. AAEP Equine Gastric Ulcers: Special Care and Nutrition. Available at: http://www.aaep.org/info/horse-health?publication=817. Accessed January 4, 2016.