Professional Rodeo at its Best in Historic Wyoming Setting
by Jack Kintner and Jackie Braverman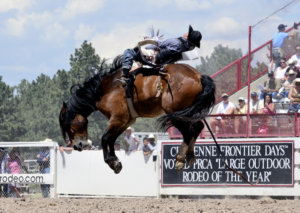 There are rodeos and then there's Cheyenne's Frontier Days. The historic Wyoming capital city celebrates its continuing western heritage by putting on the best rodeo you're ever likely to see in as picturesque a slice of high country as can be found. Nearly half the town of 60,000 volunteers, in one way or another, to put on the rodeo which runs this summer from July 20 through the 29th. And they stick with it – Arlene Kensinger founded the 16-member women's mounted drill team in 1970 and led it for almost 30 years through each summer's nine rodeo days, nine evening shows, and four day time parades before retiring. Cheyenne's dry climate and elevation (6,062 feet, or about 1,000 feet higher than the top of the Mt. Baker ski area), its rich history and convenient location, an easy 90-mile drive north of Denver (or about 1,300 miles from western Washington), make it a great summer destination.
We'll get to the rodeo, but first, a little about the setting, an area so saturated with western history that it's like a living museum, complete with Virginia City-style staged gunfights twice daily in the main square downtown. This is not a Winthrop-style recreation of a generic western theme; it's the real McCoy and hasn't changed all that much. Cheyenne began as a camp for men building the Union Pacific Railroad just after the Civil War. Today the restored main depot features a large museum, tourist info and a restaurant. And talk about cowboy roots – around the time the depot was built, and not too far away, a 15-year-old mail carrier once galloped a record 322 miles in under 22 hours (using 21 horses to do it) when his relief rider for the next stage of the ride had been killed by Indians. The rider was William Cody, riding for the Pony Express shortly before the new railroad would put them out of business.
Thirty years later, in 1897, "Buffalo Bill" Cody was being featured in a movie produced by the man who'd just invented the process, Thomas Edison, while Cheyenne had matured into a sophisticated base for cattle barons. That was the first year for this annual summer town party and cowboy competition, Frontier Days, making it the oldest rodeo, the "Daddy of 'em All" as they like to call it. These days nearly 2,000 competitors pursue a $1 million purse that brings together top flight pro cowboys and some of the finest rodeo stock around, resulting in an unsurpassed spectacle of human and animal athletic performance.
"It's just the best there is," said rodeo fan and cowboy poet Baxter Black, in town last summer for a reunion of his Colorado State Veterinary School class. Behind the humor and showmanship, Black is an astute observer of both the human and animal sides of rodeo. That this is among his favorites is as good an endorsement as an event like this can get.
One example of a local wrinkle that enhances things for the competitors and fans is how some of the events are tweaked toward duplicating real ranch conditions. Steers and calves in the roping and wrestling events, for example, are given a 30-yard head start instead of the standard five.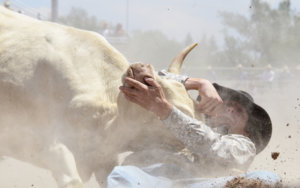 "Just like an open range, we really do have to catch them, even though we're in an arena," said steer wrestler Cody Moore. It's not unusual to see a steer evade capture altogether and trot casually out the other end, to the consternation of the cowboy and the delight of the crowd.
The whole show runs like a Swiss watch. Hundreds of head of bulls and broncs mill around together backstage as calmly as a boxful of barn kittens, confined in a complex maze of gates and passages constantly changing like a giant video game, as the various events unfold. Cowboys, who ride more easily than most people walk, shuffle these prized and coddled animals to and from the chutes with balloons tied to sticks instead of electric prods. Their skill means that pauses in the action are short.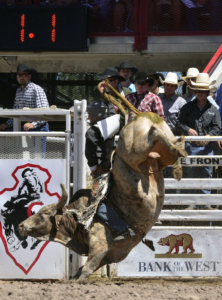 You just have time to catch your breath from the previous event when something ominous comes over the PA like "This next bull is called Meat Hook and he's never been rode." That's the kind of draw that 2010's bull riding champ Wesley Silcox of Santaquin, Utah, got last summer on his third ride. Holding the lead with rides of 86 and 89, his bull sprang out of the gate, shot six feet in the air and twisted to the right, then shook like a wet dog coming out of a creek, throwing Silcox high enough to wave at passing jets before he met Mother Earth like a hammer meets a nail. He quickly sprang to his feet and waved to the crowd, but with the DQ lost his title to Shane Proctor with rides of 84, 84 and 88.
"I broke three ribs last week in Montana," Proctor said later, "but they're on my off-hand side so I could still hang on pretty good this week."
These guys are so tough they could eat bees without noticing the sting.
The well-tended and conveniently laid out Frontier Park surrounds the arena. It's features include a Native American village, an old West town of several dozen vendors called "Wild Horse Gulch," the "Buckin' A" saloon, an on-going chuck wagon cook-off with somewhat sinful but delicious food, a high quality Western art show, and an impressively noisy and scream-filled carnival midway. The airspace above the park is given over to the USAF Thunderbirds' air show, operating out of nearby Warren Air Force Base (which began life as a real frontier fort). Evenings feature top-name entertainment in the main arena (which this summer will include Merle Haggard, Reba McEntire and Hank Williams, Jr.). Downtown and in the surrounding area you'll find more tack and western clothing stores, 36 motels and hotels, and several campgrounds.
For a family friendly western adventure that includes both a high quality rodeo and an unmatched Western setting, Cheyenne's Frontier Days can't be beat. For more information go to www.cfdrodeo.com.
Published April 2012 Issue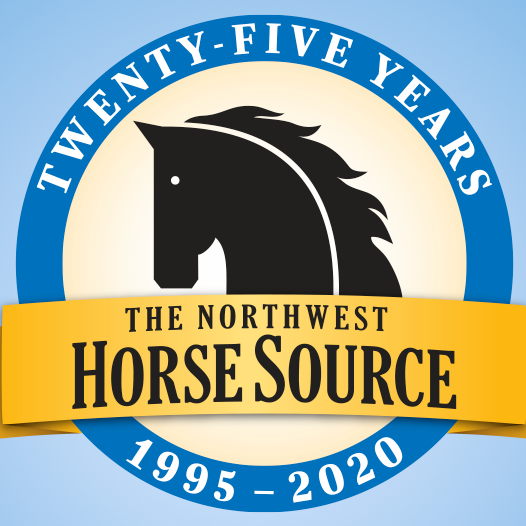 The Northwest Horse Source is an independently owned and operated print and online magazine for horse owners and enthusiasts of all breeds and disciplines in the Pacific Northwest. Our contemporary editorial columns are predominantly written by experts in the region, covering the care, training, keeping and enjoyment of horses, with an eye to the specific concerns in our region.