5 Considerations When Shopping for a Horse Property
by Allison Trimble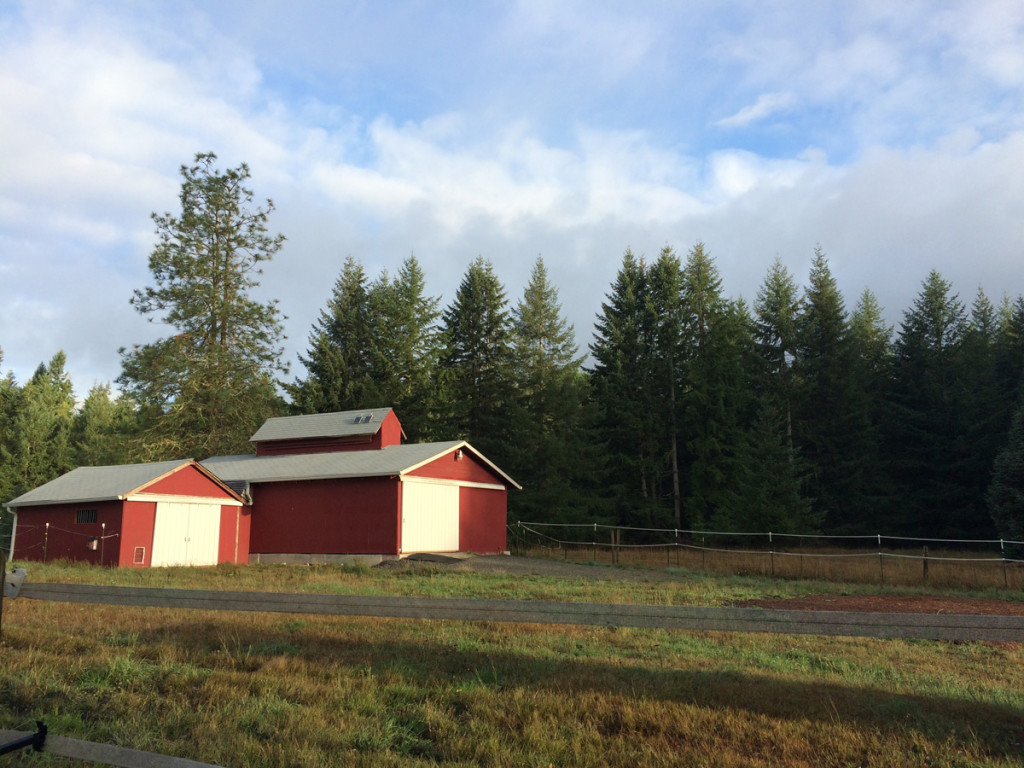 It's the dream of most horse owners is to be able to walk out the door and enjoy their horses at home. With realistic planning this dream can be achieved; the goal of this article is to help prospective buyers decide whether building or buying an existing facility works best for them. Many of the following considerations are things I wish I'd known when purchasing a horse property.
Becoming an equestrian property owner includes a commitment to owning enough acreage to house the desired number of horses. Generally, one should consider a minimum of 2 acres for a home and one horse, and an additional .5 acre per horse after that. Most horse owners will want a minimum of 5+/- acres, however. In rural areas, this sort of acreage is more readily available than in urban areas where property selection narrows.
There are two significant advantages to buying an already established horse property. First, it is "turn-key." After closing, simply add horses and because time is so valuable this is a significant advantage. The second argument for buying something established is that unless it is a commercial horse property any outbuildings, arenas, fencing, shelters, groundwork, are acquired at a fraction of construction cost. If the buyer is fortunate enough to come across a home that is suitable, with the desired acreage and equine amenities, it is unlikely it could be rebuilt for even close to the same cost. Residential properties simply don't assign much worth to the type of improvements horse owners will consider valuable.
The other reality about properties is that buyers are limited to what is available on the market. This can range from a complete set up with barn, round pen, fenced pastures and the perfect barn, to hotwire pastures with lean-tos, or an old barn that might work, to a home on acreage but no suitable outbuildings or pastures. Buyers also have strong opinions on human housing that can be cost prohibitive. It is not uncommon to see manufactured homes on acreage, and that can be a deal breaker for buyers. These properties are sometimes called "horse poor" which means human housing was sacrificed in order to gain acreage and outbuildings on a given budget. Properties with fancy homes that are also horse friendly can be very pricey.
Let's assume a decision has been made on home and acreage within a given budget. As an agent, I then outline the needs of the buyer, broken into sections, so I can compare needs with what is available on the market. If you are planning to buy in the near future, here are some elements to consider with your real estate agent.
Property Layout. Don't underestimate the importance of the design of a property. For example, my property had a barn and arena already constructed, with the barn acting like a dam in the middle of the natural run off of water. This one issue has consumed a lot of time and finances over the past 15 years and I personally would have devised a different layout. Check locations of water sources. Are they sufficient? What is the plan for manure removal, if needed? If the current layout isn't ideal, how possible/expensive will it be to make the necessary changes?
Barn. An existing barn can have features such as hot water, or automatic waterers that a buyer might not splurge on if they were building from scratch. On the other hand, the buyer can be faced with construction flaws and shortcuts made by the previous owner that can prove costly over time. If the buyer is not construction savvy, I recommend having a contractor take a look at the structure during the inspection period as general home inspections do not typically include outbuildings.
Storage. What is available, storage wise, during inclement weather? For equestrian properties this includes tractor, hay and bedding storage. If there is not sufficient protection, what are possible solutions? Existing outbuildings that offer storage can be extremely valuable to horse owners.
Fencing and pastures. If pasture and fencing are existing, what is the type and condition of them? Does it fit the needs of the buyer and, if not, what will the cost be to get them to standard? Fencing can be very expensive and time consuming, but it is easy enough to talk to a contractor, or local farm store to get quotes on construction.
Riding needs. Some horse owners trail ride and don't have the need to ride at home. For others, a round pen will suit their needs. A round pen set up, including footing, is easy to construct with minimal cost. Arena construction, on the other hand, generally starts at $30,000. A good existing riding arena is a real bonus. If the buyer will need to construct an arena/round pen, it's critical to find out if the property allows for that.
If you are in the market for a horse property, I strongly suggest making a list of absolute needs followed by a list of wants (within budget) before ever looking at what is on the market. Give estimated construction values to each list so that there are hard numbers to work with when deciding to buy or build. The more time spent on realistic planning will result in greater enjoyment of an equestrian property down the road.
Published in January 2016 Issue
Allison Trimble has a Bachelor of Science in Animal Science from Cal Poly, SLO. After her graduation in 1999, Allison started Coastal Equine and has been training and competing in cowhorse, reining and cutting events. She has had marked success in the show pen boasting many titles and championships.
Willfully Guided is an educational program based on Allison's training process. For more information visit: www.willfullyguided.com
Allison is also a Realtor specializing in horse properties, hobby and commercial farms, and family housing. She combines her experience in the horse industry with her lifelong involvement in real estate to help clients find their perfect property. Learn more at www.coastalrealtywa.com