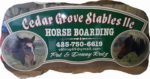 We offer high quality customized care for each horse for $450 per month. Top quality hay, alfalfa, grass and Timothy in any mix or match form the owner prefers. Grain/supplements/ the owner provides are happily fed, along with treats. We offer blanketing/fly mask/fly spray as needed. We will change blankets too if required.
We have a covered arena, 60×130, where we offer lessons by a well known international instructor 1 to 2 times a month. Haul-ins are welcome as are outside trainers.
We offer an on demand hot wash rack, locked and heated tack room with individual lockers, all day turn out in individual paddocks, 60′ round pen and 2 stalls with full paddocks attached(they cost an extra $50 per month). There is access to thousands of acres of trails 200 yards from the back gate that are open year round.
We are a friendly barn that is mixed discipline with no drama. All levels of riding skill are welcome.
We welcome horses when owners vacation or have to travel. Care is $20 per day and includes turn out in their own paddock.
Send Message to listing owner
Please
log in
to be able to send messages to the listing owner.