The Little Eastern Oregon Town with a Big Western Heart
by Catherine Madera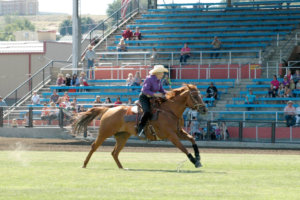 Few places are more appropriate to celebrate the birth of the unlikely nation that became a super power than Pendleton, Oregon. Augmenting its annual mega-rodeo, Pendleton 'let 'er buck' early this year with a special presentation over July 3rd and 4th that focused on rodeo's two most popular events: bulls and barrels. The event was the first summer PBR series in Pendleton and gave cowboys another chance to earn their way to Las Vegas over two nights of serious bull. Adding to the excitement, Pendleton offered another first, the opportunity for non-pros to experience the largest course in the world in a 4D barrel race held on Independence Day. The race drew 106 competitors, some from out of state.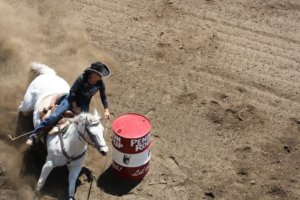 "It's such a unique course," said Jackie Culham, who has ridden in the Round Up multiple times, placing 14th out of 80 in 2010 on her mare Karma Cash. "Your heart just jumps when you see those barrels so far out."
The course is unique not only because it is run partially on grass, but the barrels are spaced at nearly three times the normal distance (288 feet versus 90). In Pendleton, nothing is done the "usual way."
Located in the north eastern part of the state, the town of only 16,000 is virtually hidden amidst acres of rolling wheat fields. But there's nothing small about the spirit of its community. Since 1910 residents—largely volunteers—produce what is arguably the best rodeo in the nation: The Pendleton Round Up. The Round Up recently celebrated its centennial and remains the largest rodeo not located in a major metropolitan area. Each year visitors crowd this small town whose center is (literally) the mammoth rodeo grounds, swelling the population to more than double. With only 2,000 hotel rooms, the only way to accommodate such an influx of outsiders is to welcome them into personal homes, backyards and, ultimately, the hearts of its residents. The friendliness and provision extended to visitors is reminiscent of a time gone by when one could drop in on a neighboring ranch and immediately be given an extra seat at the table and a plate full of food.
"It's the 'Pendleton way,'" says Round Up board member Randy Thomas of the community spirit and hospitality of locals. 
Thomas, a former music teacher from Portland, began coming to the Pendleton Round Up as a young boy. He eventually moved there and has attended 52 consecutive rodeos. Others drawn to this charming western town include Linda Bevington who has lived in Colorado and New York and now resides in Pendleton.
"I like being able to walk downtown and feel safe," says Bevington who works at Monte Beckman Saddle Shop. "People say hello to each other here; there's a real intimacy that isn't found in a large city. There are a lot of really good people in this town."
Pendleton is a place where the big thrills of the Round Up are tempered with simple pleasures like taking the leisurely (and lovely) river walk into downtown. Once there, worthy stops include a tour of the historic Underground where one can discover the town's fascinating—and colorful—past. Don't miss Hamley and Co., World Famous Cowboy Outfitters, the Round Up Hall of Fame, or the Pendleton Museum. Built on top of the Oregon Trail, the area is steeped in history. For refreshment, The Prodigal Son Brewery and Pub offers home brew and handmade comfort foods like macaroni and cheese.
If you missed July's special event, Pendleton will 'let 'er buck' again this month on September 12-15 with full days of rodeo and exciting nights at the Happy Canyon Indian Pageant. As for next year's Bulls and Barrels, all involved hope to build upon the inaugural event and create a lasting Independence Day Celebration full of bull riding thrills and a giant-sized barrel course any cowgirl can ride. Have a small horse? Don't despair. Jackie Culham placed 7th this year with Karma Cash, a horse that stands only 14.3. Like Pendleton itself, it's what's on the inside that matters most. 
"It's hard to beat a little horse with a big heart," says Culham.
For more information on the rodeo visit www.pendletonroundup.com
Published September 2012 Issue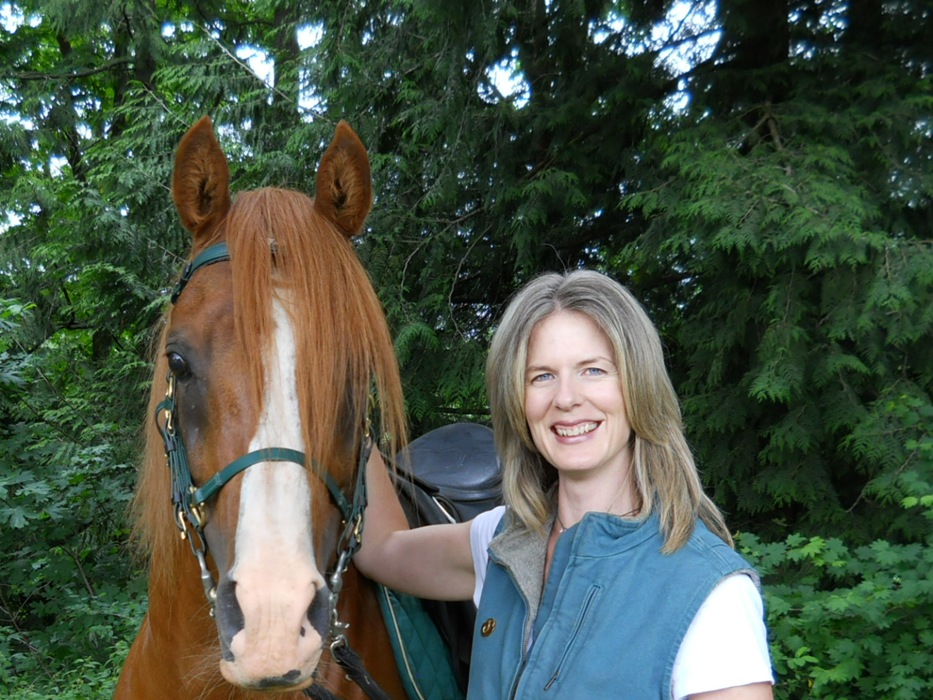 Catherine Madera served as editor of the Northwest Horse Source for five years. She has written for numerous regional and national publications and is a contributing writer for Guideposts Magazine and the author of four equine-related books. She has two grown children and lives with her husband and three horses in Northwest Washington.