Get Creative and Save Money; Build Your Own Western Game Sets
By Wendy Croney
Do you love to gymkhana? Would you like to play and practice western games at home? The equipment is expensive to buy, so here are some tips for building a pole bending set and a 2 barrel flag set on a budget. These pieces can be rearranged to make other games, or you can make additional and set several games up at the same time.
Pole Bending Set
Supplies:
6 white PVC pipes, 8 feet by 1½ inches; these are inexpensive at box hardware stores and come in the correct length.
1 or 2 bags of cement mix
6 one gallon containers; I use gallon buckets that horse supplements come in. Some retail food businesses give these away.
Water
The total cost should be under $30 for the project. Savings!
Instructions:
Gather all the supplies together. Once cement is mixed with water, it's time to go to work.
Using a large container such as a wheelbarrow, mix the cement with enough water for a thick, batter-like consistency.
With a shovel or coffee can put mixture into buckets 6–10" deep (your preference).
Put a PVC pipe into each bucket centered and straight up.
Support as needed to make sure poles remain straight and centered until the cement sets.
Setup: From your start line, measure 21 feet and place the first pole. Each pole is to be 21' apart.
Now have fun!
Two-barrel Flag Race:
Supplies:
Two metal barrels, 20-gallon size. Available at various auto shops and other places that use fluids as part of the services they provide. They usually have to pay to discard when empty, and are happy to have them hauled away.
Two ¾"x 5 foot PVC pipes
Two 12" square fabric pieces, one light color, one dark color. I use bandanas.
Duct tape or 4 zip ties or string for attaching the fabric to the PVC pipes.
Some dirt, sand or rocks for weight
Instructions:
Attach the fabric to the PVC pipes using duct tape, zip ties, or string.
If the barrels are completely intact, you'll want to cut the top off each. We cut ours with a welding torch. There are shops you can take your barrels to for this in the event you have no way to do it yourself.
Take the barrels and flagpoles to the area you'll be using them and drop a few shovels of rocks or dirt into each barrel.
Put one flag pole into each barrel.
Setup: Place the first barrel 30' from your start line, then measure 100' and place the second barrel.
Now you're ready to practice with your very own equipment. Savings!
There are many other games using the pole bending type poles, and other flag races that can be made very affordably, and you don't have to be super handy. Expand your horseplay possibilities, have a great time, and last but not least, save money!
Would you like to build trail challenge obstacles on a budget? Here are some ideas for obtaining supplies that can be used to build trail obstacles.
I made a great water obstacle at my place using a couple large plastic tarps I already had and old stall mats, big rocks and some railroad ties for the side boundaries. The railroad ties were free on Craigslist. We had some rocks, but acquired more from people freeing up space for another project. I realize not everyone has extra stall mats lying around. You could use more layers of tarp, or maybe you have a better idea. Burying the ends of tarps with dirt or gravel helps to keep them from curling up. Of course you'll need to dig a hole to the size and depth you wish the water obstacle to be.
Railroad ties work well for other obstacles, including back through patterns, step-overs and bridges. Speaking of bridges, to build your own you'll need sturdy lumber. Watch the ads, be quick to respond, and you can find great bargains.
Remember, one person's trash is a horse person's treasure (or could be)! Devise your plan, peruse what you already have, and keep a sharp eye on the free ads. Supplies can be obtained affordably. Use your imagination and build games and fun obstacles to add variety and spice to your riding.
If you like these ideas, or have others to share, I'd be delighted to hear from you.
Published in September 2016 Issue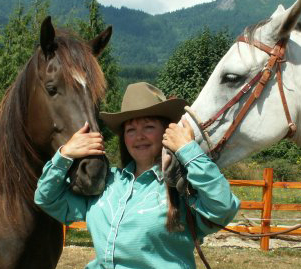 Wendy Croney has owned and ridden horses her entire life, discovering she has a true talent for effective, gentle horse training as well as teaching horseback riding. She has been training, teaching horsemanship and giving lessons in multiple disciplines for more than 30 years using her own methods developed through experience, as well as learning from Richard Shrake, Clinton Anderson and many others. Wendy is known for an economic approach to horse care and personally provides it to her own horses, including hoof trims. She focuses on creative ways to keep horses as naturally as possible on a tight budget. Wendy has retired from her business, "Galloping Horse Equestrian" in Colorado Springs, CO, however she is still available for consulting and continues the quest to provide the finest horse care for the most effective cost.