Goals Drive Decisions and Choices
By Allison Trimble
As a student at Cal Poly I majored in animal science with an emphasis in livestock production. I learned nutrition, pasture management, and all the other pertinent classes, but reproduction was my favorite topic.
I have experienced different management practices over the years breeding performance horses. When I was competing and my goal was to produce NRCHA Futurity horses, I handled my breeding operation far differently than I do now. Today my goal is maintaining my preferred pedigrees and managing my personal herd. Here are some things to consider when breeding performance horses.
Goals
If you hope to sell the offspring for a profit, extreme care must be taken in having a good feel for popular stallions. A breeder must have an eye for what up-and-coming stallion will be popular at the time of the intended sale of the offspring.
Balancing those factors with the potential sale price, stud fees, shipping, mare care and vet fees becomes a real art. It doesn't take much at all for the cost to benefit ratio to get out of whack. If the intent is to produce quality, trainable offspring for a personal string, different priorities are given more weight. Knowing the intended use for the offspring is crucial to its future success.
Selection of Stallion
I purchased a number of name-brand yearlings and 2-year-olds over the years to show at the futurity. Many of those mares I still have. I raised, trained and competed a stallion that I eventually began breeding. I found more consistency in his offspring of the traits I preferred than I did in horses I purchased. I continued breeding to him rather than breeding to outside stallions.
I also found that I could sell his offspring consistently for the same price as most of the offspring from very expensive name-brand stallions. It was perhaps not a mainstream choice at the time, but it was a better choice for my program.
When selecting outside stallions, I did as much research as possible, and looked carefully through statistics of the stallion's and his offspring's show careers. I considered the stallion station where they were standing, and their practices and fees. As a tip, stallion owners often donate breedings to stallion auctions, and that can be a great place to purchase a discounted stud fee.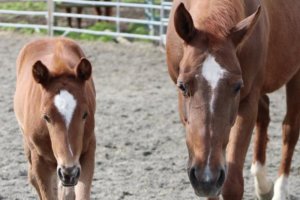 Mare Power

The quality difference between two offspring by the same stallion is the mare. Often, we see broodmares in strings simply because they didn't stay sound, or they weren't all that talented to continue showing. Other times they are well-bred and talented, but never made it to the show pen for reasons not related to their quality. That is often hard to discern, so be vigilant in assessing potential crosses. The mare will be contributing both nature and nurture to the foal, so her temperament will play a large role in the foal's development.                                                                        

Breeding Method

When I was showing my stallion, I always artificially inseminated my mares. There is significant expense with AI, however, it keeps all parties safe. As my stallion retired, we began live covering, which has really no cost, but has some added risk. In my case, my stallion is really gentle, but can get a little beat up by mares. In other instances, a stallion can be very aggressive which puts mares at risk.

I partner with a great operation in Eastern Washington, KT Ranch, and they run herd sires with different groups of mares. I have done a bit of that myself; my stallion loves companions. I did however have far lower conception rates because he is so easy going that the other mares would chase him away from a mare in heat. We have settled on him living with the babies, and then hand breeding him.

Breeding Date

If the intent is to produce show horses, the foaling date needs to be as close as possible to the first of the year. This gives a horse extra months of growth and maturity when competing against other horses his age. This generally requires an open mare being under lights starting about November 15 to ensure she is ready to breed around February 15.

Living in the Pacific Northwest, I prefer babies born no earlier than April. I don't start breeding mares until mid-May, because I don't want babies to have to spend any more time inside than absolutely necessary. Foals develop best when they stretch their legs and nibble on grass.

My interest now revolves around producing stock for my personal use and occasional sale. Every breeder has different intentions that drives decision making. With breeding comes responsibility, and that stewardship begins long before the mare is bred. Be thoughtful, do research and ask questions of experienced breeders to ensure that the future is as bright as it can be when those little hooves hit the ground.

<!-comments-button-->