Blazer Horses Impress at The Idaho Horse Expo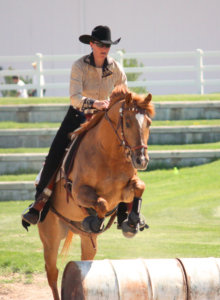 April proved to be a great month for promoting the American Blazer Horse as the public got to learn more and see Blazers in action both in Utah and Idaho. Josh Cram again led the charge at the Sun River Pet Festival in St. George, Utah where he's enjoying remarkable success promoting Blazers. So much so that demand has outgrown the supply. If you are interested in helping Josh's effort of promoting Blazers in Utah visit www.blazerhorsesales.com*. Plenty of Blazer Horse owners, including Josh, turned out for one of the ABHA's highlight events: The Idaho Horse Expo in Nampa, ID. Also traveling from out of town for the 3-day event were Dave Haynes and Dave Holliday from Washington, Lou and Donna Kelleher, and Darcy Tanto-Zemp, from Post Falls, Idaho. Haynes, a regular attendee and volunteer in the ABHA information booth at the Expo, commented that this year's Expo was the most positive in his memory. Positives included Lorin Price who won third place on Danni McGee in the 10-horse Breed Challenge on Friday, then took third again on Danni in the Extreme Cowboy Challenge Race on Saturday. Darcy Tanto-Zemp, in her first Cowboy Challenge, enjoyed great success as well, showing off her riding talents and the skills of Casey's Diamond Jim, finishing fourth, right behind Lorin, for the ABHA. Adding to the weekend's excitement was the enthusiasm at the ABHA booth where volunteers passed out a new poster to kids; everyone at the Expo seemed interested in talking about Blazers and meeting the horses on hand. Special thanks goes out to Tammy Warr. Her solicitation for donations enabled a huge raffle prize which covered the cost of this year's ABHA booth. For more information visit abha.com. 
*This link ws no longer active at the time this article was added to the website in 2018.
Published June 2012 Issue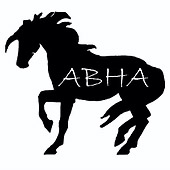 The mission of ABHA is to encourage and support members of the Association, while they raise, exhibit, promote and enjoy the American Blazer Horse. It is also our goal to maintain a history of the Blazer Horse by recording their bloodlines and achievements for the preservation of the breed. blazerhorse.com