SmartPak offers helpful tips and products to keep you and your horse cool this summer
PLYMOUTH, MA – July 14, 2016 – You and your horse want to be outside soaking up every second of summer, and that means you need serious gear to beat the heat. From healthy hydration to sun protection, SmartPak has the smart solutions you need to make the most of summer.
"Summer can be a beautiful time to ride but it can also pose its own challenges when it comes to the hot temperatures," said Donnie Steele, SmartPak's President and Chief Marketing Officer. "At SmartPak, we've combined the smarts of fellow riders – both on our team and from hundreds of thousands of customer reviews – to provide helpful tips with a selection of the best products to help keep you and your horse comfortable in the ring or on the trail all summer long."
Tip #1 – BEAT THE HEAT
Your horse stays cool during hot weather and exercise by sweating. Healthy sweating is essential to keeping your horse from overheating, so be sure to talk to your veterinarian if you're concerned that your horse isn't sweating appropriately. There are also supplements available that can help support horses who don't sweat normally.
While you're making sure that your horse has what he needs to beat the heat, don't forget about yourself! One of the best ways for you to keep your cool is by adding gear with Ice Fil® technology to your riding wardrobe. Ice Fil® converts sweat into cooling energy, helping you stay comfortable on even the hottest days.
Tip #2 – STAY HYDRATED
While your horse needs to sweat to keep himself cool, it comes at a cost. Sweat is composed of water and key minerals that need to be replaced. If your horse's water intake doesn't keep up with what he loses, he could be at risk for dehydration, and failing to replace the key minerals lost in sweat could lead to a nutritional imbalance that could impact overall health and performance.
Along with ensuring that your horse always has access to fresh water, a supplement may help keep him healthy and hydrated. Consider a salt supplement like SmartSalt™ Pellets to encourage normal drinking, or an electrolyte formula like SmartLytes® to replenish the key minerals lost in sweat. Learn more about how to choose the right one for your horse at SmartPak.com/Hydration

Tip #3 – BEAT THE BUGS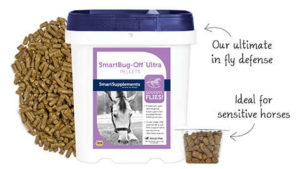 If the flies are making your horse bug out this season, there's more you can do than go through countless bottles of fly spray. There are smart solutions for beating the bugs from the inside and the outside. When it comes to protecting your horse from the inside, supplements like SmartBug-Off ® Ultra provide a comprehensive formula designed to help deter flies.

It's important to provide your horse with an outside line of defense, too. Fly sheets, masks, and boots help keep your horse protected from poll to tail. Many fly sheets are made of soft but strong mesh to keep your horse covered and shielded from the sun.


Tip #4 – BE SUN SMART(ER)

While everyone loves to soak up the sun, we all know that the sun's UV rays can be harmful for both us and our horses. Luckily, there are ways you can protect yourself and your horse so you can still have fun in the sun this summer.

Depending on your horse's color, too much fun in the sun can result in a bleached-out coat. You can provide support from the inside with a supplement that contains ingredients like paprika and nutmeg to help bring out a deep, dark shine in black, bay, and brown coats.

For protection from the outside, let your fly spray do double duty by picking one that includes ingredients that provide sun protection, and consider using a spray-on sunscreen made just for horses if your horse is especially sensitive and prone to sunburns. Along with spray-on sunscreen, you can shield your horse from the sun's rays with a fly mask and fly sheet that provide UV protection. If you have a horse with a dark coat, a fly sheet will also help prevent sun bleaching.

Finally, remember to shield your own skin! Whatever your style, SmartPak's got a selection of top-rated tops with UV protection for you.

STAY COOL

To find all of the tools you need to help keep your horse healthy and happy this summer, visit www.SmartPak.com.

 

About SmartPak

From the feed room to the tack room, SmartPak offers innovative solutions to help riders take great care of their horses. SmartPak was founded in 1999 with the introduction of the patented SmartPak supplement feeding system. The revolutionary, daily dose SmartPaks are custom-made for your horse, individually labeled and sealed for freshness. With the success of this simple and convenient feeding system, SmartPak has continued to expand its offering of quality products, including its own line of more than 55 supplement formulas called SmartSupplements, and a wide variety of tack, equipment, and supplies. The company has grown rapidly each year and is now the largest retailer of equestrian products in the United States. SmartPak's success has been powered by a passion for delivering an unbeatable customer experience, and the company has been recognized with a Bizrate Circle of Excellence award five years in a row, as well as receiving an "Elite" rating from STELLAService. A nine-time Inc. 500/5000 honoree, SmartPak is the only equine company ever named to the Inc. 500 list.

<!-comments-button-->