All Equine Users Must Practice Leave No Trace
by Teri Starke
Editor's Note: We will continue with the final BCHW chapters next month.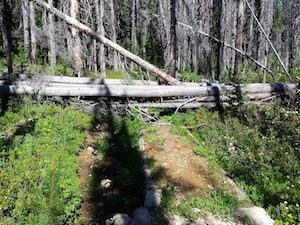 Good grief, what a hot dry summer we had this year! I hope everyone was able to get out and ride their favorite trails.
Back Country Horsemen of Washington had huge plans for the State-Wide Work Party (SWWP). We had hoped to clean up some much-needed trails in the Salmo-Priest Wilderness. We'd planned to partner with Back Country Horsemen of Idaho and the United States Forest Service. Unfortunately, the fires in that area just made the whole plan unsafe for humans and equines, so the SWWP for 2017 had to be cancelled. Hopefully we will be able to get back in there in the next couple of years to get that work done.
The state trail boss, Jason Ridlon, has developed a core group of packers and trail warriors for a "hot-shot" crew. They pack in to needed areas and do intensive trail maintenance in a short period of time. This year was the first hot-shot mission. They went into the Pasayten Wilderness to the Andrews Creek Project to clean up some unusable areas. The United States Forest Service cleaned out 300 yards of 6-foot-deep downed trees from fires in 2003 and 2008, so the 33-person hot-shot crew was able to get through to the trail systems they were repairing.
The hot-shots worked with the USFS and the Pacific Northwest Trail Association to clean out and repair 15.5 miles of trail. They replaced 3 puncheons and repaired one more on the Andrews Creek Trail #504, Peepsight Trail #525, Coleman Ridge Trail #505 and Crystal Lake Trail #517. They do plan to return in 2018 and clean out another 2.5 miles in order to reach Crystal Lake. With USFS budget for trail maintenance at an all-time low, volunteer efforts are so important to keep our trails useable.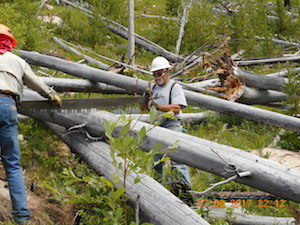 I wanted to write again about Leave No Trace and how important it is that we as horse and mule owners clean up manure at the trailhead parking areas. The newly developed Teanaway truck and trailer parking area began sporting a sign that I think says it all.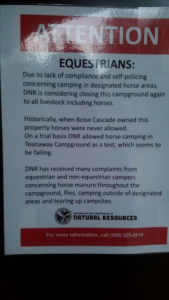 Most of the equine trails are also used by other recreational users who view manure of any kind as disgusting. If we wish to continue using public and private lands for riding, we need to become better stewards of those trailheads. Several of us clean up other folks' horse waste at trailheads so we can keep our favorite trails open. If every equine user cleaned up after their animal we wouldn't need to worry about losing our right to ride on Washington State's trails.
By Teri Starke, Ways and Means Chair and Treasurer
Give me a call if you have a question about BCHW. If I don't know the answer, I will get you to the person who does! 253-709-5052.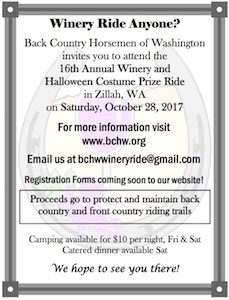 Originally Published October 2017 Issue
Back Country Horsemen of Washington (BCHW), is a 501 (c) (3) organization with 32 chapters across the state dedicated to: keeping trails open for all users; educating horse users in Leave-No-Trace practices; and providing volunteer service to resource agencies.