Costume Prizes, Beautiful Country, and Wine Make this Ride Popular
October 27, 2018 is the date for the 17th Annual BCHW Winery & Halloween Costume Prize Ride in Zillah, Washington. This very popular event is open to all riders and their horses and mules. Costumes are encouraged but optional. Go to the Photos link at www.bchw.org for some great fun photos of past costumes for ideas.
Come ride the beautiful Rattlesnake Hills area, traveling well-marked paths through vineyards and orchards while enjoying the scenery of the lower Yakima Valley. You'll be stopping at the participating wineries along the way for tastings and the opportunity to purchase wine. There are two ride loops available with riders going out for over 2 hours to avoid crowding on the routes. You decide how long you want to spend at the wineries.
The number of wineries visited will vary up until just before the ride, but there are usually at least seven on each loop. There will be stock water at some (but not all) of the wineries along with some spots for tying your horse. You may find it works best to have friends hold your horses for you while tasting. A group of four works great for this.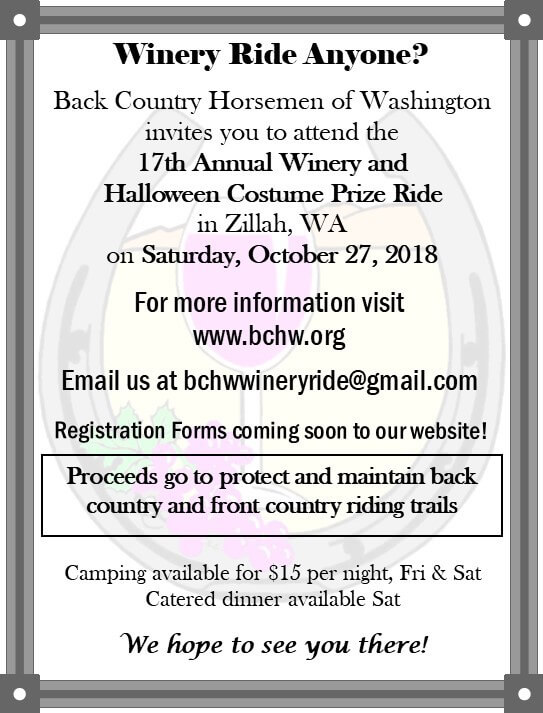 You can purchase wine at each winery so take a credit card or cash and your registration info with you. And don't worry about getting your purchases back to camp, BCHW members will collect the bottles and return them to the registration area for you to pick up. So you can even buy by the case! A typical Winery Ride has over 1500 bottles of wine and gifts being transported and handed to owners.

Camping is available on Friday and Saturday evening (preregistration required). See FAQs regarding all camping information before signing up. On Saturday night there is a catered dinner available to purchase when you register for the ride. There will be entertainment for everyone to enjoy after the dinner. The BCHW Store will be there too; come get yourself a commemorative shirt to remember this fun event.

If you can't or don't want to go on the ride but want to participate, volunteers are needed; please email Deb Wesselius at wesselius@wildblue.net. Most of the volunteers find this as much or more fun than the ride itself. You can also take your own vehicle and go wine tasting before and after the event too. Funds raised from this event help to support the Back Country Horsemen of Washington in their efforts to keep trails open for stock use.

The flier, registration forms, FAQs and all other related information is available at www.bchw.org. For even more info that is not on the website email bchwwineryride@gmail.com. This is an event not to be missed. We look forward to seeing you there!

Learn more about BCHW at www.bchw.org. Keep up with BCHW issues and events by following our state Facebook page, www.facebook.com/public.bchw.

<!-comments-button-->