Monumental Effort in the Wenatchee National Forest
By Doc Wesselius
Back Country Horsemen of Washington (BCHW) volunteers not only think they are able but know they can contribute their talent and labor to ensure that public lands remain open for recreational stock use.
The Black Pine Horse Camp in Wenatchee National Forest was inaccessible for a decade because of a road washout. Consequently, the horse camp and the trails leading out of the camp did not get maintained. The United States Forest Service (USFS) Wenatchee River Ranger District, under the leadership of trail manager Jeff Leisy, realized that correcting the neglect was going to require a huge undertaking. Jason Ridlon, event organizer for BCHW, prearranged with the USFS a BCHW State Wide Work Party (SWWP) to get the camp open again and to clear several destination trails for rides from camp.
There was a huge amount of organization and planning before the work at the horse camp could commence. Six USFS personnel worked with Jeff to start the camp and trail work that was required to access the campsite. A federal Recreational Conservation Organization (RCO) grant was obtained to help finance the project. USFS also arranged with concessioner Thousand Trails, fee area administrator, for volunteers to stay at the camp for the June preparatory work party and the SWWP. Jason also obtained a Recreational Trails Program (RTP) grant to help fund the project.
There was a smaller work party in June, centered on National Trails Day, where members prepped the horse camp for the upcoming SWWP. Volunteers cleared the campgrounds of brush that had overgrown the camping areas. Highline poles and hitching posts were installed in preparation for the large number of volunteers' vehicles that were anticipated for the SWWP. (See the August issue of the Northwest Horse Source for more details and photos.)
Jason also attained collaboration with Washington Trails Association to have a youth and an adult crew to help with the trail work. Arrangements were made to have the Faubion Trail Crew clear trails in the back country. The three wilderness crews were hauled to their remote worksites by Icicle Creek Outfitters and BCHW packers.
Kim Merrick, Nisqually Chapter, was commissioned to organize three meals a day and consolidate cooks for meal preparations and clean-up for six days. A parking crew was appointed to assign camping spaces and register the volunteers for volunteer hours documentation. Arrangements were made to provide weed-seed-free hay for the trail stock plus deliver water daily to each camp. Every morning a Leave-No-Trace crew cleaned up the highline areas.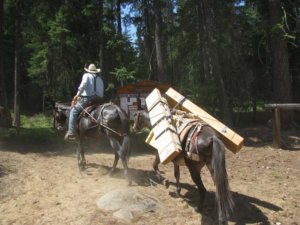 Each morning work assignments were given out––everybody had a job. Arrangements were made with the packers for delivery of allotted trail tools and supplies for each worksite. Equal weight pack loads were arranged and marked for loading on the pack stock; all supplies and tools had to be hauled in.
In addition to clearing trails, drainage problem areas required either a puncheon and/or a turnpike to ensure livestock safety. Jason had ridden the trails to evaluate the amount of trail maintenance and construction that could be accomplished during the SWWP.
Seventy-six volunteers from sixteen BCHW chapters showed up to help at the work party. 3750 volunteer hours were accumulated plus 49 pack stock days were donated—equaling $84,674 in labor match for the RTP grant.
As the volunteers packed up their camps and loaded the trail stock to head home there was a noted satisfaction in the completion of a major project. Everyone had contributed their individual expertise and ability that culminated in a monumental achievement. The volunteers were able because they knew they were able.
View photos of the SWWP at www.pbase.com/bchw/2018swwp.
Back Country Horsemen of Washington is dedicated to keeping trails open for all users, educating stock users in Leave-No-Trace practices, and providing volunteer service to resource agencies. To learn more about BCHW go to www.BCHW.org. Keep up with BCHW and issues and events we are following on our state Facebook page www.facebook.com/public.bchw/
Upcoming BCHW Activities and Events
Most of the 32 BCHW Chapters have Fun Rides other events scheduled throughout the year. Go to www.BCHW.org and click on Upcoming Activities and scroll down for the list.
2018 Board of Directors Meetings – Kittitas Valley Event Center in Ellensburg. All members are welcome to sit in: December 1
2019 Rendezvous – March 15-17 at the Kittitas Valley Event Center.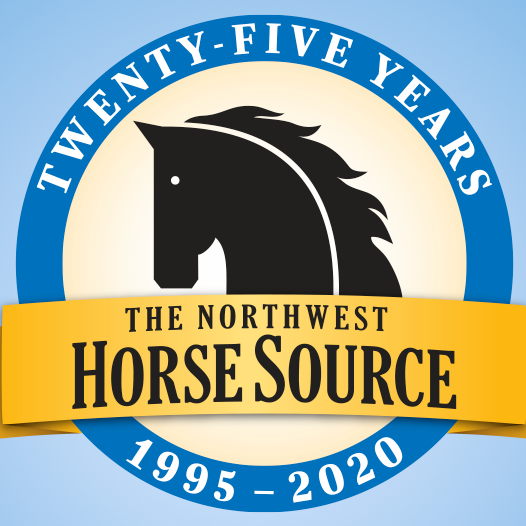 The Northwest Horse Source is an independently owned and operated print and online magazine for horse owners and enthusiasts of all breeds and disciplines in the Pacific Northwest. Our contemporary editorial columns are predominantly written by experts in the region, covering the care, training, keeping and enjoyment of horses, with an eye to the specific concerns in our region.