BCHW Members Keep an Eye on Legislative Activity
By Lori Lennox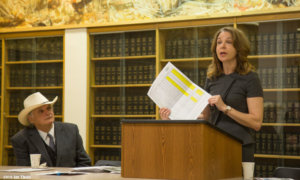 A major function and benefit of Back Country Horsemen across the nation is our influence on legislative activity at the state and national level; it's one of the ways we keep trails open. In Washington we are fortunate to have two extremely good leaders for this endeavor. Jeff Chapman watches everything at the state level and Randy Rasmussen is our national contact at Back Country Horsemen of America. These people are extremely talented and dedicated.
It's a well-known fact that our representatives in the state legislature and national congress like to hear from constituents. When we contact them about bills that concern us it has an influence, especially coming from a nationwide organization such as Back Country Horsemen. We make sure that we point out how many volunteer hours we put in the previous year—BCHW recorded 73,683 hours of volunteer effort to maintain our state and federal public lands in 2018!
Jeff and Randy keep track of the bills before both our state and national legislatures and share that information with the chapters, whose members must back them up with calls and emails to lawmakers. While a bit intimidating at first for many, once you get the hang of it you will find that it is a very simple process. And it's so very important! If we don't let our elected officials and land managers know our concerns, horse and mule riders (a small group to begin with) will not be taken seriously.
BCHW holds a legislative day at the state capitol in Olympia each year. This year it was February 25. There was a very nice member turnout. Jeff did a great job putting this event together, with several guest speakers addressing the group in the morning. They talked about the specific bills we are following and those we have concerns about as recreational trail users—especially trail funding. Afterwards, members dispersed to meet with their own elected officials at meetings that had been set up in advance. Cowboy hats, boots and BCHW garb was seen all over the Capitol!
Upcoming BCHW Activities and Events
Most of the BCHW chapters host events where the public is invited throughout the year. Go to www.BCHW.org and click on Upcoming Activities and scroll down for the list. Information on how to join BCHW can also be found there.
July 1 – 4 Statewide Work Party; Umatilla National
October 26 18th

Annual Winery Ride & Costume Prize Ride in Zillah, WA
Upcoming 2019 Board of Directors Meetings—Kittitas Valley Event Center in Ellensburg. All members are welcome to sit in: June 15, September 14, December 7.
Back Country Horsemen of Washington is dedicated to keeping trails open for all users, educating stock users in Leave-No-Trace practices, and providing volunteer service to resource agencies. To learn more about BCHW go to www.bchw.org. Keep up with BCHW and issues and events we are following on our state Facebook page www.facebook.com/public.bchw
Back Country Horsemen of Washington (BCHW), is a 501 (c) (3) organization with 32 chapters across the state dedicated to: keeping trails open for all users; educating horse users in Leave-No-Trace practices; and providing volunteer service to resource agencies.