Let's Take Pride in Leave No Trace
By: Teri Starke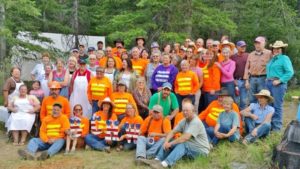 What a beautiful summer! Back Country Horsemen of Washington (BCHW) has been busy with events and working on the trails since spring. As soon as our trail warriors were able to get into the woods they were brushing and cleaning out trails. There have been state and chapter work parties on trail systems throughout Washington; it really is amazing how hard BCHW works to keep the trails open for all public land users in Washington state! The end of June saw the fourth annual statewide work party descend on the Twisp River Horse Camp. What a difference they made –  5 days, 90 people, 1350 meals prepared, 206 stock days, 2,178 volunteer hours, 919 travel hours, 186 trees removed from the trails, 105 feet of turnpike built, 300 feet of impassable trail repaired, 8 culverts installed, 1 bridge repaired, 14 water bar structures installed, and over 50 miles of trail brushed and cleaned up! There were 15 different chapters, as well as independents there from June 30th to July 5th.
There has been a conversation on Facebook about BCHW members visiting various trail heads and seeing how much hay and horse manure is being left all over the camping and parking areas. It seemed like a good time to remind trail riders about Leave No Trace and the importance of packing out our horses' waste, both hay and manure. BCHW practices Leave No Trace (LNT) at all of our functions and our LNT team received a national award in Washington D.C. a few years ago for their LNT training across Washington State. As equine owners I am sure you have heard about hiking and bike-riding groups that do not want to share the trails with messy horses. They have loud voices in the legislature. By its very nature horse ownership is not for everyone. Most people can't afford to keep a horse, but everyone can hike a trail. We cannot do too much on the trail other than to train horses to keep walking while they are pooping so they do not leave piles everywhere. We cannot pack manure out from the trail. What every equine owner can and should do is pack out their horses' waste at the camps and parking areas. Also, if you see other garbage or waste, pack that out too. If we all work together to keep our riding areas clean of horse waste, then that excuse cannot be used to kick horses off public lands and trails. Let's all work together to keep our trails, trailheads, and parking areas clean of both human and equine waste.
BCHW's next statewide event is the Wine Ride in Zillah. If you have not been, you are missing a great weekend! Would you enjoy tasting wines with your riding friends as you ride from winery to winery? If so, the Halloween Winery Ride on October 29th might be your favorite ride. You might enjoy entering the Halloween costume contest, or merely watching the colorful entries as they ride out. The event has lots of door prizes, a great barbecue dinner, and scenic views of the beautiful Yakima Valley from the hillsides above Zillah. If you purchase wine, the bottles will be delivered for you back at camp. Register early at http://bchw.org/ and enjoy the fun!
BCHW membership renewal season begins October 1st. Consider joining the only Washington State nonprofit that actively works to keep public lands open for equine use. You can be as involved as you want. To assist BCHW in member numbers when we go to Olympia each February, go to the BCHW website to join as an independent member through PayPal or by mail. To find out about riding, work party, and event information in specific areas, join a chapter. Our website has the state map of chapters. We want and value you as a member. If you have the skills and would like to contribute to our mission, you can become a trail warrior. There is always trail maintenance to be done.  If that is not for you, you could become a chapter officer from President to Hospitality. Each position fulfills a valuable part of the BCHW mission. You get to meet new people, ride new trails, and see this great state along the way.  You will not be disappointed and your membership is tax deductible. BCHW is a non-profit 501-c3. If you have any questions, give me a call at 253-709-5052. If I don't answer, leave a message with your name, phone number and question, I will get back to you as quickly as I can. Enjoy the trails!
Teri Starke, BCHW Treasurer, Ways and Means (fundraising) Chair and 2017 Rendezvous Chair
Published September 2016 Issue
Back Country Horsemen of Washington (BCHW), is a 501 (c) (3) organization with 32 chapters across the state dedicated to: keeping trails open for all users; educating horse users in Leave-No-Trace practices; and providing volunteer service to resource agencies.