Time To Ride®, an initiative of the American Horse Council's Marketing Alliance, concluded a very successful pilot program in 2019 and is eagerly looking forward to expanding in 2020.
The American Horse Council (AHC) Marketing Alliance was formed in 2012 by a group of equine-related corporations and organizations to promote horses, horseback riding and horse ownership to the general public. The mission of this industry-wide initiative is to sustain and grow the horse industry.
The Marketing Alliance's initial program, Seats In Saddles, focused on providing horses at events for people to try horseback riding. While widely popular at expos and other equine venues, the program was limited by the number of horses available. Thus, in 2014 the Marketing Alliance modified its approach and created Time To Ride.
The Time To Ride Challenge, which ran from 2014 to 2018, focused on attracting people to barns in their communities to meet horses. This resulted in lots more people "touching" a horse (over 130,000 in 5 years). However, the industry did not see a significant uptick in lesson participants.
In 2019 the Marketing Alliance decided to put a fresh spin on Time To Ride, shifting the focus to introducing families, specifically school-age children, to horseback riding and horse care in a safe, welcoming and fun environment through an initial series of six to eight lessons that include basic horse care as well as riding. The lesson series are offered at approved Time To Ride Program Facilities through schools, local youth organizations and recreational leagues.
Equine facilities and instructors have to meet stringent requirements to be designated as Time To Ride Program Facilities, including SafeSport training and a criminal background check. All instructors are required to hold a current professional membership with one or more national breed or discipline associations, be certified as an instructor through a recognized program such as Certified Horsemanship Association or licensed as a riding instructor in the state in which they teach.
The Marketing Alliance set an initial goal of 20 to 30 farms for the 2019 pilot program, but much to their surprise they received over 70 applications and 100 inquiries which resulted in a total of 62 lesson programs being accepted for the pilot. These facilities represented 14 different breed and discipline organizations.
Surveys conducted with participants showed a whopping 72% of facilities gained new lessons students! The highest number of new lesson students at a single facility was 35. Facilities with less than 15 lesson horses averaged 8.6 new students and those with 15 or more lesson horses averaged 9.8 new students. The number of students achieving the learning goals of the initial set of lessons was 94%.
"We are just blown away by the success of this program," says Molly O'Brien, Time To Ride Program Manager. "We all recognize the need to bring newcomers into the horse industry. Time To Ride provides a platform for introducing kids to horses and riding lessons, with the goal of creating the next generation of knowledgeable, educated horse lovers and owners." She continues, "If we can get over 300 new students into a lesson program from 62 facilities, imagine what we could do if we doubled or tripled the number of approved Time To Ride Program Facilities."
The American Horse Council's 2017 Economic Impact Study found that the horse industry contributed $122 billon to the U.S. economy. The study showed there were over 38 million horse enthusiasts in the U.S., and 30.5% of American households containing a horse enthusiast who participated in horse activities or attended horse events as a spectator. AHC President Julie Broadway notes, "For a barn to add 8.6 weekly lesson students could result in $10,000–$15,000 or more in additional annual income for the facility, depending on lesson fees. Time to Ride not only grows participants, it's a significant income producer for the industry."
Barns approved as Time To Ride Program Facilities are given a robust "tool kit" including marketing tools, techniques and assistance to help with their local outreach. In addition, participants are connected to the TTR community to share ideas, best practices and other helpful advice with fellow instructors through a very active closed Facebook page and frequent communication with the TTR program manager. The majority of instructors in the pilot program said the ability to promote their designation as an approved Time To Ride Program Facility validated their program and credentials. To learn more about Time To Ride, visit timetoride.org.
More About AHC Marketing Alliance
Time To Ride is managed and funded by the American Horse Council Marketing Alliance. The Marketing Alliance was founded by a consortium of equine-related corporations and organizations to encourage and support the growth of the U.S. horse industry. Current members of the Marketing Alliance include: Active Interest Media/Equine Network, American Horse Council, Purina, Spalding Laboratories and Zoetis. Additional support is provided by the American Association of Equine Practitioners, American Paint Horse Association, American Quarter Horse Association, National Reining Horse Association, Troxel Helmets and Weaver Leather. Educational support is provided by Certified Horsemanship Association, United States Equestrian Federation and United States Pony Clubs.
Article by Molly O'Brien for Time To Ride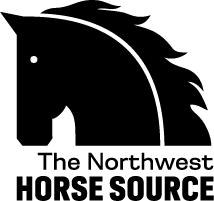 The Northwest Horse Source is an independently owned and operated print and online magazine for horse owners and enthusiasts of all breeds and disciplines in the Pacific Northwest. Our contemporary editorial columns are predominantly written by experts in the region, covering the care, training, keeping and enjoyment of horses, with an eye to the specific concerns in our region.