Saying Goodbye Hurts
by Kim Roe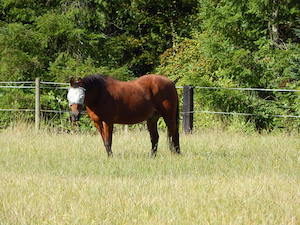 In September I had to euthanize my 35-year-old Quarter Horse gelding, Dynanic.
A son of the legendary Reminic, my mother bred and raised him. She used him for cutting, reining, and working cow horse. We rode him in the mountains, gathered and herded cattle with him, and ponied training horses. I used him as a lesson horse, which is how I eventually met my husband, Theo, and then Dynanic taught our daughter how to ride. I even rode him in dressage shows and jumped him a bit.
Dynanic had a lot of "sting" (as the cowboys like to say) and could buck and be snorty at times, but Theo always said he would come back and catch you if you started to fall off – which was true. I called him my "little Buddha" because he spread peace and joy in the barn and field. A practiced comedian, he kept me laughing and comforted through some very dark times – the deaths of both my mother and my husband.
Dynanic always did everything we asked him. He was smart and kind and if he'd been human he would have been a Nobel Prize winner. His death would have made headlines; but the day he died it was just me and the vet leading him out of the barn for the last time. He could barely walk, but he followed me obediently to the spot where I'd chosen to bury him. And then it was over and he was gone. What is left is the love and memory of a very good horse.
Soon after I began receiving essays for our Senior Horse Essay Contest. Reading them opened up the rawness of my loss and brought on waves of grief, but they also comforted me. All this shared love for our old horses was therapeutic. I wanted everyone who submitted an essay to be a winner. They are all winners to me!
As the singer Lucinda Williams writes, "The temporary nature of any precious thing, that just makes it more precious..." As our horses age and we know the days are ticking down, they grow more dear to us. This holiday season let's remember to enjoy our loved ones of all kinds – human or equine.
Enjoy our Senior Horse issue. I'm pleased to introduce our new Trainer's Corner columnist, Karen O'Neal – a well-known and highly respected trainer of eventers and jumpers in our region. As always, feel free to contact me at kim@nwhorsesource.com.
Originally Published December 2016 Issue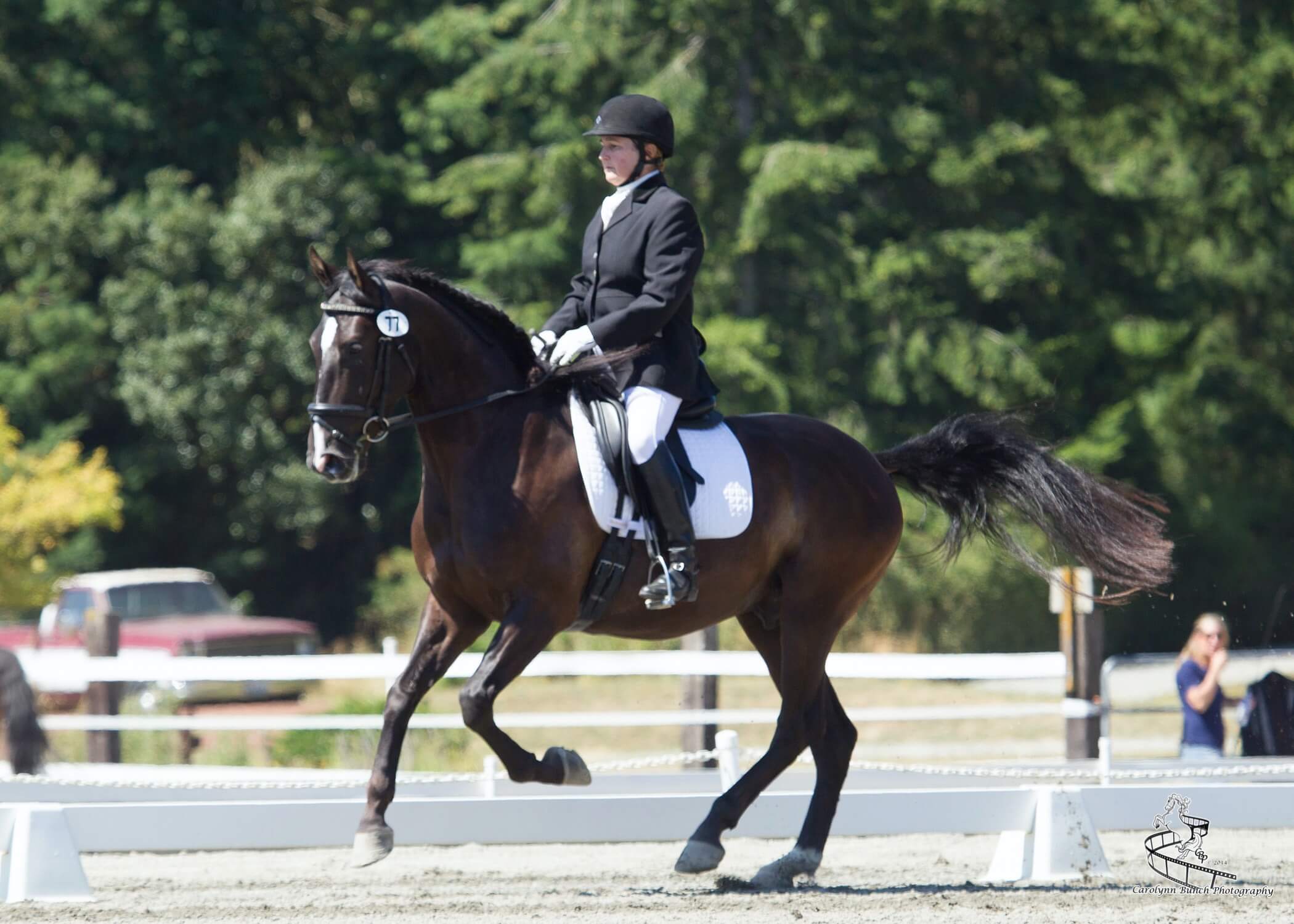 Kim Roe grew up riding on the family ranch and competed in Western rail classes, trail horse, reining, working cow, and hunter/jumper. She trained her first horse for money at 12 years old, starting a pony for a neighbor.
Kim has been a professional dressage instructor in Washington state for over 30 years, training hundreds of horses and students through the levels. In recent years Kim has become involved in Working Equitation and is a small 'r' Working Equitation judge with WE United.
Kim is the editor of the Northwest Horse Source Magazine, and also a writer, photographer, and poet. She owns and manages Blue Gate Farm in Deming, Washington where she continues to be passionate about helping horses and riders in many disciplines.