Returning to My Roots with The Great Alaska Horse Expo
by Allison Trimble
I have wanted for years to return to Alaska and bring horsemanship and equine education to the extraordinarily dedicated equestrians that live and ride in my home state. Set against the backdrop of the midnight sun, The Great Alaska Horse Expo in June did just that and brought the Alaskan Horse Community together in the process. Six clinicians offered 13 riding clinics and four instructional clinics to 27 participants. The clinics were designed not only to give horsemanship training, but also to present a number of equine activities to Alaskans and allow them to give something new a try. I have to admit, I was not prepared for how active and open-minded the attendees would be. Many people rode in at least one clinic with each clinician. The clinicians interacted with participants during the clinics and also throughout the expo. Clinicians, participants and spectators came together to help with setting up, tearing down, round pen assembly, and moving cattle. It was an expo true to the nature of the Alaskan horse person—involved and invested.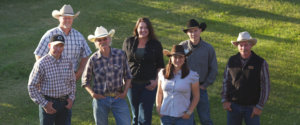 Ranch Sorting and Intro to Cattle and Reining – Allison Trimble
I was lucky enough to get to introduce the sport of ranch sorting. Most of the 15 horses that rode in the clinic had never been on cattle. It was really neat teaching cattle behavior and proper position for driving them to both people and horses new to cattle work. In the Intro to Cattle Workshop we worked on walking through and handling a herd of cattle as well as proper positioning and starting your horse on working a single cow. The Intro to Reining Clinic was again very large and for the most part we worked on body control and the start to a turn-around. I really enjoyed introducing the disciplines I am passionate about to the community that started me on my journey.
Arena Jumping, Western, and Classical Dressage – Kimberly Barber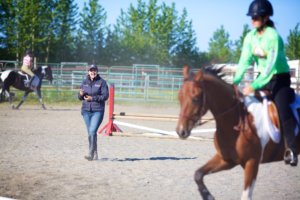 This was Kimberly's first time presenting at an expo. She is a natural. With a background in Pony Club, she is the perfect fit for Alaska's large Pony Club. On the Thursday before the expo, she was introduced to a number of her clinic participants while serving as the examiner for D-level Pony Club certification. Along with her well attended arena jumping and classical dressage clinics, Kimberly introduced western dressage to an eager audience. It was great for everyone to learn about this fast growing sport. I was stopped by a number of mothers and riders who expressed how excited they were about all they learned in these clinics.
Colt Starting and Roping – Kade Mills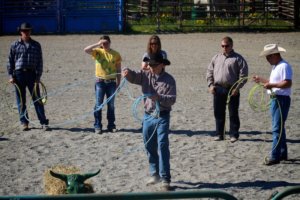 Diamond was a 4-year-old quarter horse, belonging to Vikki Wythe, who was born at the Head of Kachemak Bay and newly gelded this spring. The first day Kade showed round pen work and demonstrated the steps he takes before saddling and during the first saddling. The second day he put the first ride on Diamond in the round pen with great success. The final day he rode Diamond in the open arena and performed all three gaits, plus stop and back-up in front of a riveted audience. His cool demeanor, tried and true methods, and obvious love for horses made an inspiring presentation while giving attendees tons of great pointers and information.
Kade was joined by his brother Kyle in teaching the steps to swinging the rope and introducing the rope to the horse. The second day they walked through rating and introducing the horse to cattle with roping in mind. Alaska has a large rodeo and high school rodeo group so this was a very popular clinic.
Practical Horsemanship – RayeLochert
Raye offered three clinics that covered obstacle training, the pushy horse, and speed control. All three of these topics are very relevant to the Alaskan horse population. With many people only able to ride four months out of the year, these can be common problems. He helped people establish boundaries with their horses, and showed them steps to go through to both get speed out of their horses, and to regulate it once they had it. Participants in The Great Alaskan Cowboy Race benefited greatly from his instruction on approaching and completing obstacles.
Problem Solving – Barry Cox
Barry is the first Great Alaska Cowboy Race Champion. In his demos he illustrated the horsemanship methods that got him there. He showed how he approaches trailering and round pen work, as well as common issues like problems with leading and bridling. His lovely assistant for the clinics was wife Shirley Cox. Shirley was instrumental in my early horse years in her position as 4H leader and mentor. Alaska is very fortunate to have them both as a resource. 
Farrier Science – Mark Plumlee Mission Farrier School
Mark presented rethinking healthy foot function to an attentive group, including myself. Throughout the weekend he asked horsemen to rethink balance and proper foot function. I know it opened my eyes and I am sure that his well-attended presentations inspired many people to think outside the box. The best attended event was Cowboy Church on Sunday morning, given by Mark, who related the relationship with God to the principles he applies to farrier science. His dedication to his craft, and devotion to horses and people, is evident in all he does. He is a true horseman and role model.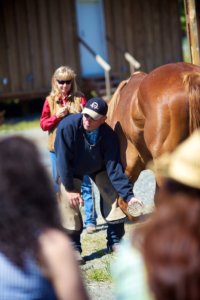 The Great Alaska Horse Expo was truly a full circle experience for me; the heart of Alaskan horse people a lingering source of inspiration long after the event was over.
For more photos and recap of the GAHE visit www.greatalaskahorseexpo.com or on Facebook.
Published August 2012 Issue
Allison Trimble has a Bachelor of Science in Animal Science from Cal Poly, SLO. After her graduation in 1999, Allison started Coastal Equine and has been training and competing in cowhorse, reining and cutting events. She has had marked success in the show pen boasting many titles and championships.
Willfully Guided is an educational program based on Allison's training process. For more information visit: www.willfullyguided.com
Allison is also a Realtor specializing in horse properties, hobby and commercial farms, and family housing. She combines her experience in the horse industry with her lifelong involvement in real estate to help clients find their perfect property. Learn more at www.coastalrealtywa.com