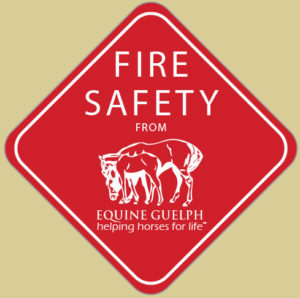 Guelph, Ontario – With cooler, darker days ahead – and more pressure on heating and lighting systems – the risk of barn fires increase. So, now is the time for your annual combustible clean-up! Combustibles are everywhere and unavoidable around the horse farm, but your management of them can considerably reduce the risk of a barn fire.
To help you learn more about the combustible hazards in your barn and evaluate the safety of your facility, go to Equine Guelph's Barn Fire Prevention online tool. The interactive assessment tool asks 20 questions about inside and outside of your barn and takes five minutes to complete.
The chart below outlines some of the common fuel sources that burn rapidly once ignited and discusses best practices for prevention.
Combustible
Solutions
Hay
-Ensure moisture content is not too high before storage

-tidy up loose hay from storage area and barn aisles

-Store in a separate building at least 50 feet away from barn

Bedding
-Also preferable to store in a building at least 50 feet away from barn

-sweep up any loose material

Cobwebs
-take them down with a broom
Weeds, overgrown grasses
-use the weed eater to trim around buildings
Gasoline or diesel
-keep any fuel for farm equipment in a separate storage area at least 50 feet away from the barn.  This includes the tractor and equipment!
Paint, pesticides & other flammable liquids
-keep in a separate storage area at least 50 feet away from the barn.
Dust
-avoid fine sawdust shavings as a bedding material

-sweep and clean dust from surfaces of the barn on a daily basis

-remove dust and debris from fan blades and motors

Lint
-clean dryer lint traps and ensure proper exhaust
Garbage
-take out the trash (empty feedbags, binder twine…all combustible)
Wood
-consider other building materials such as concrete block or steel
"Once you have reduced your risk taking care of combustibles, inspect all possible sources of ignition," says Equine Guelph director, Gayle Ecker. Electrical malfunctions are a primary ignition source for many fires including barns.

To reiterate, farm buildings can have an increased fire risk in winter when heating and electrical systems are more heavily taxed for heating and lighting. Portable heaters are a risk as are other appliances not intended for agricultural use. When not in use, electrical equipment should be unplugged and properly stored away. It is important not to let water bucket heaters run dry. Once empty, the continuous heat can melt the bucket resulting in ignition of stall bedding and hay.

An annual electrical inspection, completed by a qualified electrician familiar with livestock barns, is highly recommended to check for signs of deterioration or corrosion. The Electrical Safety Authority has stringent requirements for installation of electrical equipment in animal confinement areas.  Have any issues that are found repaired without delay.

Jim Zyta, Vice President Loss Prevention Heartland Farm Mutual provided the following tips: For additional protection against fire, especially in the animal housing area, consider arc-fault protection on 15 and 20 amp circuits and receptacles. This is especially important if your wiring is recessed within barn walls and above ceilings. Arc-fault protection could prevent a fire due to loose connections or rodent damage saving your building and much more!

When using 240 volt "approved barn heaters" consult with your Electrician and ESA Inspector. It is a best practice to hardwire these units directly to a 30amp circuit avoiding a receptacle connection. These 30amp/250V receptacles are notorious for burning up!  Always maintain clearances to combustibles as per manufacturer's installation guidelines. Zyta says Heartland is happy to partner with Equine Guelph on this initiative, "We are helping barn owners protect what they value the most."

For more tips on fire prevention and to complete interactive activities inside and outside your barn, visit the Barn Fire Prevention Tool, sponsored by Heartland Farm Mutual.

Want to learn more? Equine Guelph will be hosting a Technical Large Animal Emergency Rescue Course, with a fire safety component, from November 17 – 19 at the Meaford Fire Department Training Centre in Ontario, Canada.  Contact slraymon@uoguelph.ca for more details.

<!-comments-button-->