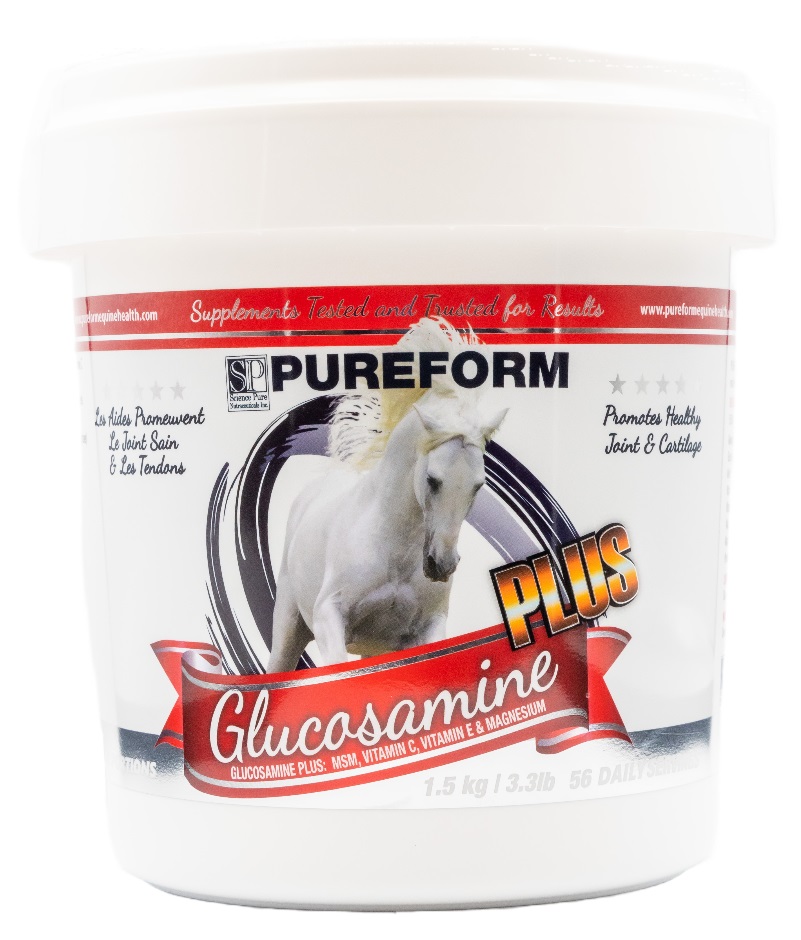 It was a joy to read the essays and see the photos submitted to our Senior Horse Essay Contest this year, and it was very difficult, as usual, to choose the winners. In the end, I picked two who most closely followed the submission guidelines and whose words and photos best described what is special about their senior horse. Although we had many adult entries this year, we didn't have any youth submit an essay, so I chose first and second place winners in the adult category. I believe everyone who loves and learns from a senior horse is already a winner.  
We are grateful to SciencePure for partnering with us in this contest by sponsoring the winners' award of a one-month supply (3.3 lb. bucket) of SciencePure Glucosamine Plus.
– Kim Roe, NWHS Editor
---
First Place Winner: Lisa Thompson and Roy
Essay and photos by Lisa Thompson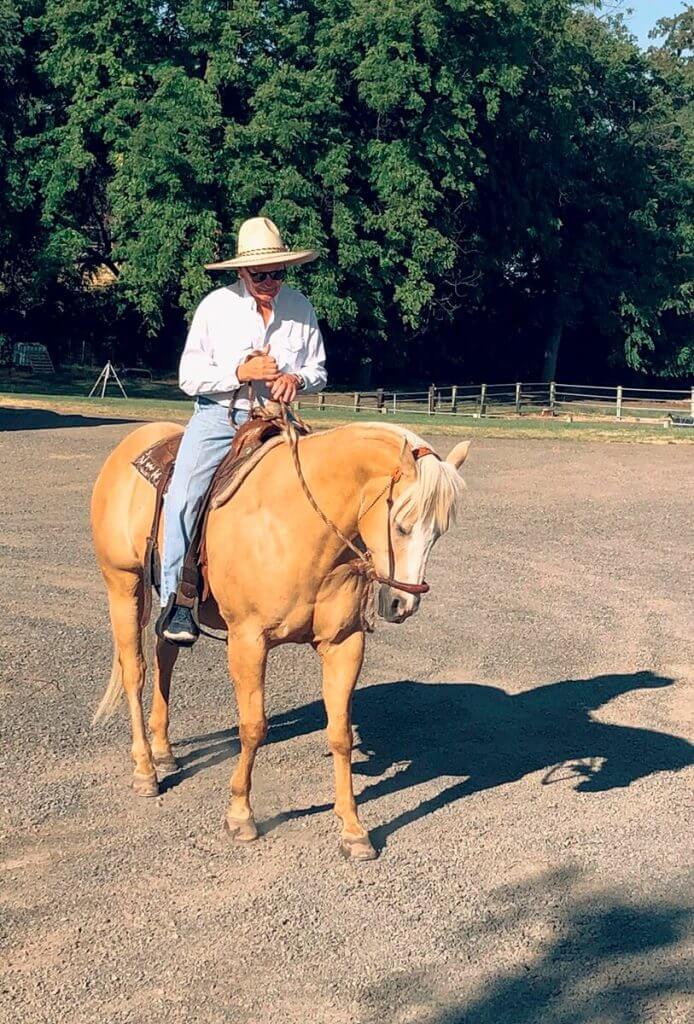 I'd always said that I would never buy a horse for his color, but when I swung my leg over Roy's back and settled into the saddle, I felt something special. He turned out to be much more than just pretty. At first, he was a bit head shy, but very soon he started following me around the pasture knowing I wasn't going to hurt him.
For a number of years, he and my husband babysat the young horses I rode in the mountains of Idaho. Rocky trails, mountain bikers, motor bikers, elk, moose, streams, rivers, bridges—Roy was solid. No matter what, he was brave, smart, and patient. He taught those young horses how to camp, how to cross water, how to take life easy.
We moved our horses back to California for the winter to get them out of the snow, and he'd easily blend in with any other horses he was pastured with. A few times he was enlisted as a schooling horse for a clinic, and as the rider would walk, trot, canter around the ring, he often would look to see if I was watching him. It was at these clinics that his fan club started.
He was my go-to horse when I was called to help gather, sort, and ship cattle. He even took care of me when I roped one or two. We'd be enlisted to help on some large group rides where I might need to switch horses with a guest, or calmly walk beside a nervous horse to give him confidence. Roy has a presence that calms the whole world down.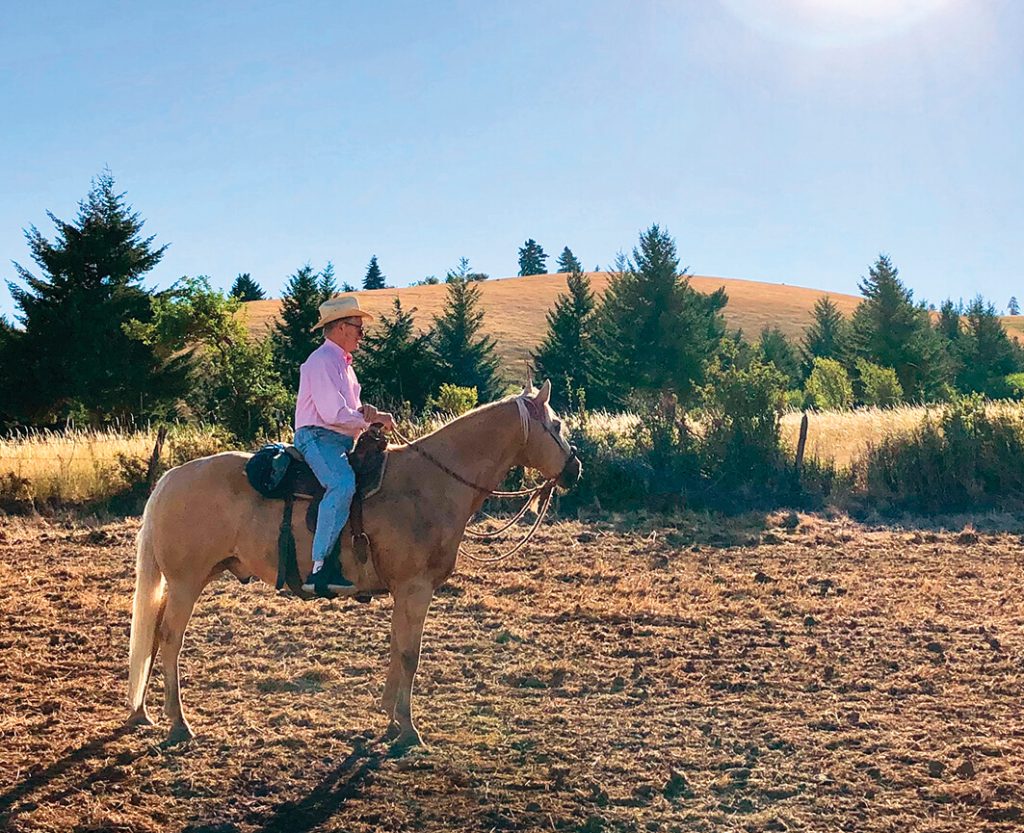 He could also "turn it on" when I asked him to. My heart took wing when the other wranglers would look at Roy, head to tail, and say, "…Nice horse!"
"I would love to go riding someday!" Friends, visitors, relatives would make that request. I don't put just anybody on my horses, but I knew I could put just about anybody on Roy. I knew he wouldn't hold it against me, and I knew he'd be safe as rain. His fan club grew.
In 2014, my husband was diagnosed with multiple sclerosis. David had ridden his whole life and was always athletic and adventurous. Roy kept his grace while David's hands became heavier, his left leg became weaker, and his balance declined. There are numerous articles written about the neurological benefits of riding, and how it helps the neurons stay alive.
Today, Roy is 23 years old and looks deep in my eyes as I stop him by the mounting block. He squares his feet and holds his breath. He freeze-frames while David slowly climbs up, struggles to get his right leg up and over and his feet in the stirrups. Once David's in the saddle, Roy exhales deeply and off we go out into the hills.
---
Second Place Winner: Mike McGlenn and Jake
Essay and photo by Mike McGlenn
Seventeen years ago, at the suggestion of good friends, my wife Chris and I drove to Selah, Washington to meet Jake, a well-trained, six-year-old, 16'1" hand, sorrel Quarter Horse gelding.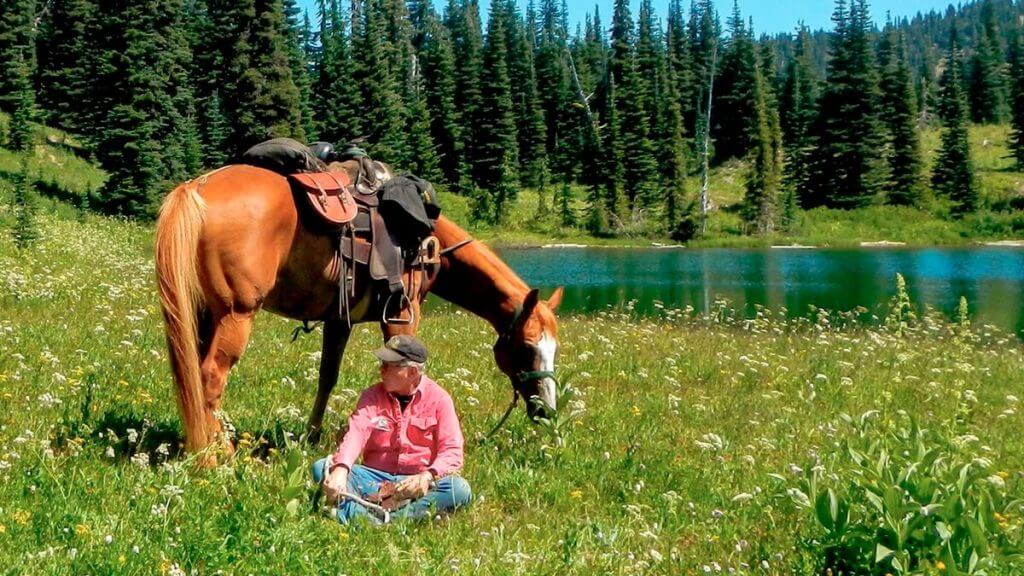 This one seemed different. He put his head down and looked at me close-up through the pipe pen's bars and I looked him in the eye. It sounds odd, but it felt like a spark flashed between us. I thought yes, he and I could make a team.
Now, at 24 years old, Jake is 1300 pounds and in very good condition. He and I have logged roughly 8500 miles all over the Northwest, including the Pasayten Wilderness and the Goat Rock Wilderness in the Gifford Pinchot National Forest, Idaho's Selway Bitterroot Wilderness, Montana's Bob Marshall Wilderness (twice), and the Eagle Cap Wilderness in Oregon.
Once, when we were riding down the Baker Lake trail, we reached a sharp bend around a bank and Jake had just stepped up on a puncheon bridge section. Suddenly, Jake and I noted the nose and head of a bear coming at us around the corner. Jake stopped abruptly but didn't react otherwise. By the time I told my riding partner there was a bear, the bear had done a 180 and was gone. I waited a couple of minutes, then urged Jake forward. He wouldn't move. I got off, hooked up the lead rope and walked off in front of him. If I was going to lead, then he was okay. He followed me, and off we went.
We've ridden through the middle of several elk herds. Jake and I and our riding partner were west of the Les Hilde trailhead in Skagit county, bushwhacking and looking for an old trail we had ridden years before. Jake was in the lead, and we were being very quiet. Jake stepped on a large old dry branch and it snapped loudly. In a nearly full circle around us ten cow elk and their calves exploded up out of the brush and dashed away. Jake just stopped moving and was on high alert as we watched this transpire.
One of his "faults" is his opinion that there's no obstacle he can't negotiate. We have discussions on his wish to do things that I don't think are good for us.
For the last few years Jake has been an only horse. He gets a lot of personal attention as is indeed one of the family.
Jake and I are both aging out. I hope that the two of us have a few more years to do trails together as the team we have become. He has truly given me the ability to be "16 hands closer to God" high up in the mountains that I love.
See this article in the November/December 2023 online edition:
November/December 2023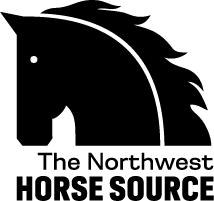 The Northwest Horse Source is an independently owned and operated print and online magazine for horse owners and enthusiasts of all breeds and disciplines in the Pacific Northwest. Our contemporary editorial columns are predominantly written by experts in the region, covering the care, training, keeping and enjoyment of horses, with an eye to the specific concerns in our region.