Back Country Horsemen chapters and members already have plans for a variety of projects this coming season. Here are two of them: one is saving established trails, the other is creating new trails. More help for each would be very much appreciated!
Trails in our National Forests have been undermaintained for the last 10 to 15 years. Each year the budget for recreation in the USFS shrinks, with no improvement in sight. We are losing trails and access to trailheads.  Along with other user groups, BCHW is doing something about it by applying for grants and organizing work parties to help get our trails back for all designated users to enjoy.
Whatcom Chapter applied for and received a portion of the new BCHW RCO grant. The money will go towards restoring many of the stock-friendly trails that are accessed from both Whatcom and Skagit Counties. There will be heavy support from Skagit Chapter members on these projects. This is in the Mount Baker Snoqualmie National Forest.
Most of these trails are open to equestrians, hikers, and snowmobiles in the winter. They will take a double front by packing in and replacing deteriorated puncheon on the Excelsior Pass Trail off of Mt. Baker Highway and replacing deteriorated turnpike on Schreiber's Meadow off Highway 20. In addition to these two projects, work will be scheduled on the Skyline Divide, Bell Pass, Elbow Lake, and Baker Lake trails.
As work begins, they will be recruiting help from all user groups and potential users to help with the variety of jobs that need to be done. If you want to see the high Cascades from your saddle and preserve Sound of Music views for everyone, please join in on one or more of these projects.
Contact Bill McKenna, Whatcom County Chapter at wintercreek10@gmail.com to get involved.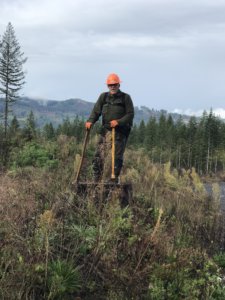 The Southwest Washington Department of Natural Resources (DNR) is in its third year of what is called the Seventeen Mile Project. It is adding approximately seventeen miles of new trails to the Tarbell Trail System out of the Rock Creek Horse Camp in the Yacolt Burn State Forest.
The project has several user groups volunteering to help build these trails: the Mount St. Helens Chapter of BCHW, Washington Trail Riders Association, Washington Trail Association, Chinook Trail Association and Evergreen Mountain Bikers. These groups have been working both independently and together to complete different sections of the trails.
The new trails will make shorter loops; the original Tarbell Trail is a 23-mile loop. For example, one completed loop is right out of the horse camp and makes a 7.5-mile loop, which is nice for a short ride. Some of the other loops will be 10 or more miles depending on where you start from.
The trails were slated to be finished by the end of 2020 but no doubt it will take a little longer than that.
The horse camp has been going through some changes also. Campsites have been enlarged to accommodate the big living quarter trailers that have become so popular. Day parking has been expanded and new sites added. There are both horse and non-horse sites available.
The horse groups have been working with DNR to do these changes and annual maintenance as well. These changes make the Tarbell Trail system more user-friendly and the camp group more enjoyable. All trails are open to hikers, horses and bikes. So far no E-bikes are allowed.
To volunteer, contact Jim Anderson, Mount St. Helen's Chapter, at muleman1951@gmail.com.
Used Tack Sale – Save the dates! March 20-22 is the Back Country Horsemen of Washington's annual Rendezvous in Ellensburg at the fairgrounds. This is the home of the biggest used tack sale in Kittitas County! Admission is free to the public. There will be lots to see and do all weekend long. More info at www.BCHW.org
Upcoming BCHW Activities and Events:
BCHW Leadership Training – January 25, 2020 – Kittitas Valley Event Center, Ellensburg, WA
Legislative Day in Olympia – February 17, 2020
Rendezvous! – March 20-22, 2020 – Kittitas Valley Event Center, Ellensburg, WA
More BCHW sponsored events are listed at org/lnt/main/upcoming_events.htm
Back Country Horsemen of Washington is dedicated to keeping trails open for all users, educating stock users in Leave-No-Trace practices, and providing volunteer service to resource agencies. Learn more at www.bchw.org
Article provided by Lori Lennox, Jim Anderson, and Bill McKenna
Posted in January 2020 Issue
Back Country Horsemen of Washington (BCHW), is a 501 (c) (3) organization with 32 chapters across the state dedicated to: keeping trails open for all users; educating horse users in Leave-No-Trace practices; and providing volunteer service to resource agencies.